Main Contents
Mitsui & Co., Ltd. ("Mitsui", Head Office: Chiyoda-ku, Tokyo, President and CEO: Kenichi Hori) has acquired a 33.3% stake in Terreva Renewables, LLC ("Terreva"), a US renewable natural gas ("RNG") production and sales company. Mitsui made this investment in line with other investors in response to Terreva's investment program led by CIM Group, LLC*1.
In North America, approximately 146 million tons of municipal solid waste per year are disposed of in landfills, where methane from organic materials is emitted into the atmosphere. The greenhouse effect of methane is approximately 25 times greater than that of CO2, and emissions reduction and effective utilization of methane from landfills has become an important social issue. Terreva currently processes methane gas generated in landfills at five locations in North America, in order to produce and sell RNG. Moving forward, Terreva aims to increase its RNG production capacity by pursuing development opportunities for new production plants. As a strategic investor in Terreva, Mitsui seeks to contribute toward realizing Terreva's growth strategy through expansion of its customer base and other initiatives.
As an alternative to fossil fuels, RNG is attracting attention for its important greenhouse gas reduction characteristics. In the US, the consumption of RNG via low-carbon transportation fuels such as clean hydrogen and compressed natural gas (CNG) climbed 17% in 2022 over the previous year. We have observed an increase in demand from gas utilities seeking to deploy RNG within their gas distribution networks. Moreover, we expect RNG value chains to further expand through the supply of RNG-based low-carbon methanol and LNG to Japan and other regions, as well as the capture and utilization of biologically produced CO2 separated during RNG production.
Mitsui has identified the realization of both stable energy supply and carbon neutrality, as one of its key priorities. By leveraging the synergy with existing business, including energy trading, chemicals, LNG, and low-carbon fuels business, Mitsui seeks to provide customers with RNG-based decarbonization solutions and contribute to the sustainable development of society as a whole.
*1 Mitsui holds approximately 20% stake in CIM Group, LLC, a community-focused real estate and infrastructure owner, operator, lender and developer.
Company Profile
| | |
| --- | --- |
| Official name | Terreva Renewables, LLC |
| Head Office Location | Atlanta, Georgia, USA |
| Established | 2022 |
| Representative | Jason Byars |
| Number of employees | 16 people |
| Business Activities | Renewable natural gas production and sales |
| Website | |
Terreva's RNG production facility in Wisconsin, USA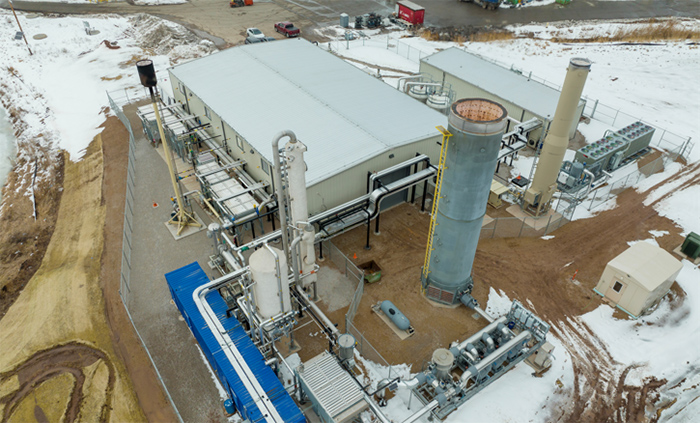 ---
Mitsui's Materiality
"Build brighter futures, everywhere" as our corporate mission, and to gain the trust and expectations of our stakeholders to realize a better tomorrow for earth and for people around the world, we have identified five material issues ("Materiality") for Mitsui's sustainable growth. We anticipate this particular project/ business to contribute especially to the realization of "Create an eco-friendly society"
Secure sustainable supply of essential products

Enhance quality of life

Create an eco-friendly society

Develop talent leading to value creation

Build an organization with integrity