Main Contents
Mitsui & Co., Ltd. ("Mitsui") has acquired convertible bonds worth approximately US $62.75 million (¥8.6 billion) issued by Luxembourg-based Alvotech S.A. ("Alvotech") from ATP Holdings ehf, an affiliate of Aztiq Pharma Partners Sarl ("Aztiq"). Alvotech is a global biotech company specializing in the development and manufacture of biosimilar medicines for patients worldwide. Biosimilar medicines are therapeutic equivalents to biologics, a class of medicines that have revolutionized the management of many difficult-to-treat medical conditions. Biosimilars have the potential to expand patient access to biologic medicines globally by providing these critical treatments at a lower cost. Biologic medicines have gained considerable importance in recent years and constituted 59% of novel active substances approved in 2022*.
Takeshi Akutsu, Chief Operating Officer of Mitsui's Wellness Business Unit commented, "At Mitsui, we are committed to the improvement of global health through the provision of value-based healthcare and we are delighted to invest in a company like Alvotech that shares our vision for a brighter, more equitable future in medicine."
Additionally, Mitsui and Aztiq have executed a strategic collaboration agreement to accelerate advancements in healthcare across the portfolio companies for both firms. By leveraging Aztiq's exceptional track record in pharma and biopharma and Mitsui's extensive market reach through its portfolio companies, the partnership aims to expand the reach of medicines globally.
"We are thrilled for Aztiq to join forces with Mitsui, as we believe that fostering collaboration across our healthcare platforms will only enhance execution and help meet the objectives of both of our firms," said Robert Wessman, founder and Chairman of Aztiq, expressing his enthusiasm for the partnership. "At Aztiq we see this partnership with such a global force as Mitsui as validation of our efforts and our mission to create positive change in the global healthcare ecosystem."
*IQVIA Institute, Global Trends in R&D 2023
About Aztiq
Aztiq is a visionary healthcare focused private equity company dedicated to fostering innovation and driving positive change within the industry. Led by Robert Wessman and a team of veteran entrepreneurs, Aztiq is committed to identifying, investing in, and nurturing ground-breaking healthcare solutions in pharma and biotech to address global healthcare challenges. By leveraging the cumulative experience of the team, Aztiq aims to improve patient outcomes, increase access to quality healthcare, and create a more efficient and sustainable healthcare ecosystem. With a proven track record of success, Aztiq continues to make a lasting impact on the health and well-being of people around the world. For more information, please visit www.aztiq.com and follow Aztiq on LinkedIn.
About Mitsui
Mitsui & Co., Ltd. (8031: JP) is a global trading and investment company with a diversified business portfolio that spans approximately 63 countries in Asia, Europe, North, Central & South America, The Middle East, Africa and Oceania.
Mitsui has about 5,500 employees and deploys talent around the globe to identify, develop, and grow businesses in collaboration with a global network of trusted partners. Mitsui has built a strong and diverse core business portfolio covering the Mineral and Metal Resources, Energy, Machinery and Infrastructure, and Chemicals industries.
Regarding Mitsui's Wellness Business, Mitsui believes it is important to transform the healthcare system to make it more patient-centric and promote the prevention of illnesses and create an environment where people can enjoy both physical and mental well-being. To establish "wellness" fulfilled by three key elements – healthcare, prevention and well-being – Mitsui is pursuing to create various businesses through integrating its tangible assets and digital solutions.
Wellness, the new wealth—We will create a brighter future in which the wellness we offer provides new wealth to people around the world.
For more information on Mitsui & Co's businesses visit, www.mitsui.com.
Company Profile
| | |
| --- | --- |
| Name | Alvotech S.A. |
| Location | Luxembourg |
| Established | 2013 |
| Representative | Robert Wessman |
| Employees | 947 |
| Business outline | Development and manufacture of biosimilars |
| Website | |
| Stock Exchange Listings | NASDAQ |
| Securities Identification Code | ALVO |
Alvotech HQ and Manufacturing Site in Reykjavik, Iceland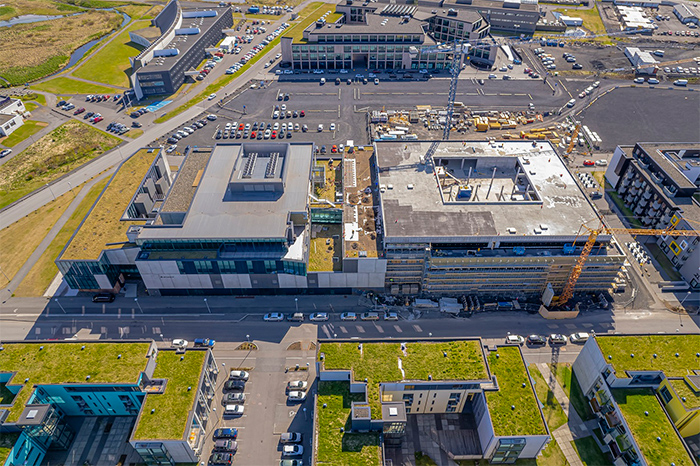 ---
Mitsui's Materiality
"Build brighter futures, everywhere" as our corporate mission, and to gain the trust and expectations of our stakeholders to realize a better tomorrow for earth and for people around the world, we have identified five material issues ("Materiality") for Mitsui's sustainable growth. We anticipate this particular project/ business to contribute especially to the realization of "Enhance quality of life"
Secure sustainable supply of essential products

Enhance quality of life

Create an eco-friendly society

Develop talent leading to value creation

Build an organization with integrity