Main Contents
Mitsui & Co. (U.S.A.) Inc. ("Mitsui USA"), a wholly owned subsidiary of Mitsui & Co., Ltd. ("Mitsui", Head Office: Tokyo, President and CEO: Kenichi Hori), has entered into agreements with Florence Copper LLC ("Florence") for copper cathode offtake and an equity conversion right. Florence plans to produce low-carbon copper cathode in Arizona, U.S.A. Mitsui USA will pay USD50 million to cover part of the development costs, and will receive copper cathode and also acquire an equity conversion right. Florence is a wholly owned subsidiary of Taseko Mines Limited, which is listed on the Toronto Stock Exchange.
Florence plans to produce copper using the in-situ recovery (ISR)* for extracting the metal from underground deposits. This method will enable mining operation with carbon emissions approximately 80% lower compared with conventional copper mining, and also a low environmental burden, since no shovels, trucks, or other heavy machinery are used to extract copper. Once the U.S. Environmental Protection Agency issues the final environmental permit, Florence will start construction of the project, which is expected to take 18 months, and then will commence production. Mitsui will use its marketing and business development expertise accumulated over the years to contribute to the sale of the low-carbon copper cathode in the United States and the development of the project.
Copper is an important industrial material. Further demand growth is anticipated due to the increasing use of electric vehicles and the development of renewable energy infrastructure driven by rising environmental awareness on a global scale. Mitsui has set a coal of achieving net zero emissions by 2050, and aims to halve its greenhouse gas (GHG) impact by 2030 compared with the level in FYE March 2020. Through this project and other GHG reduction initiatives, Mitsui will contribute to the realization of a carbon-neutral society.
*ISR is a method in which diluted acidic solution is injected into the ground to dissolve copper minerals in situ. The resulting solution is then pumped up to the surface. This mining method is commonly used for uranium extraction, but there are few copper mines that are suitable for this type of extraction.
Company Profile
| | |
| --- | --- |
| Official name | Taseko Mines Limited |
| Head Office Location | Vancouver, British Columbia, Canada |
| Established | April 15, 1966 |
| Representative | Stuart McDonald, CEO |
| Number of employees | 742 |
| Business Activities | Mine development in North America (especially copper mines), production and sales of metal resources |
| Website | |
| | |
| --- | --- |
| Official name | Florence Copper LLC |
| Head Office Location | Florence, Arizona, Unites States of America |
| Established | September 14, 2007 |
| Representative | Richard Tremblay |
| Number of employees | 35 |
| Business Activities | Development of the Florence Mine, production and sales of copper |
| Website | |
Florence Production Test Facility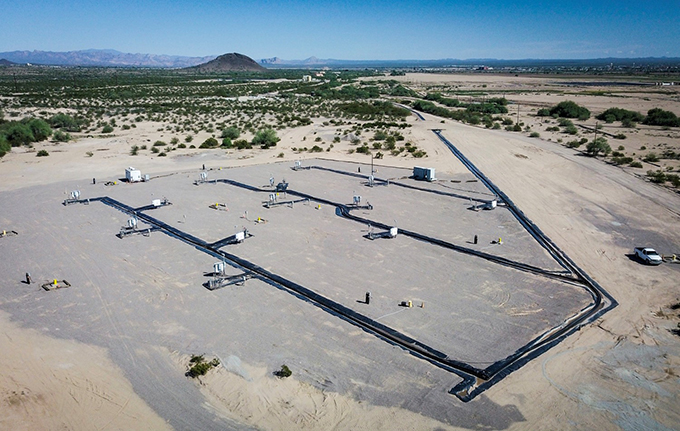 ---
Mitsui's Materiality
"Build brighter futures, everywhere" as our corporate mission, and to gain the trust and expectations of our stakeholders to realize a better tomorrow for earth and for people around the world, we have identified five material issues ("Materiality") for Mitsui's sustainable growth. We anticipate this particular project/ business to contribute especially to the realization of "Secure sustainable supply of essential products" and "Create an eco-friendly society"
Secure sustainable supply of essential products

Enhance quality of life

Create an eco-friendly society

Develop talent leading to value creation

Build an organization with integrity