Main Contents
Mitsui & Co., Ltd. ("Mitsui", Head Office: Tokyo, President and CEO: Tatsuo Yasunaga) has entered into an agreement together with its Japanese partners to acquire a part of the mining interests to the Grosvenor Coal Mine from Anglo Coal (Grosvenor) Pty Ltd.. The Grosvenor Coal Mine is located in the state of Queensland, Australia and forms a part of the Australian coking coal business of leading mining company Anglo American. Contracts related to the agreement were signed today. The value of Mitsui's acquisition is AUD 82.1 million (approximately JPY 6.2 billion), which represents an interest ratio of 4.75%.
The Grosvenor Coal Mine has been producing high quality and cost-competitive coking coal since 2016. The Grosvenor Coal Mine is adjacent to the Moranbah North Coal Mine, in which Mitsui is currently participating alongside Anglo American and the Japanese partners. The Grosvenor Coal Mine shares surface facilities owned by the Moranbah North Coal Mine. This transaction establishes the same interest ratio in the Grosvenor and the Moranbah North mines. The joint venture managing both mines aims to achieve further improvements in operational efficiency and increase production through integration.
Based on the increase in global steel production, strong growth in demand for coking coal is forecast. In recognition of our goal to "secure sustainable supply of essential products", which is listed under Mitsui's Materiality, we will continue working hard to provide the sustainable and stable supply of resources that are essential for the development of society.
Grosvenor Coal Mine Overview
Shareholding ratio
Anglo American 88.00%
Nippon Steel Corporation 5.00%
Mitsui 4.75%
Nippon Steel Trading Corporation 1.25%
Shinsho Corporation 0.50%
JFE Mineral Company, Ltd. 0.50%
(investments made via investment subsidiaries in all companies)
Project location
Approximately 190 km southwest of Mackay, Queensland, Australia
Saleable coal production (CY2018)
3.8 million MT (100% coking coal)
Mitsui's Coal mine business in Australia (Mitsui's share)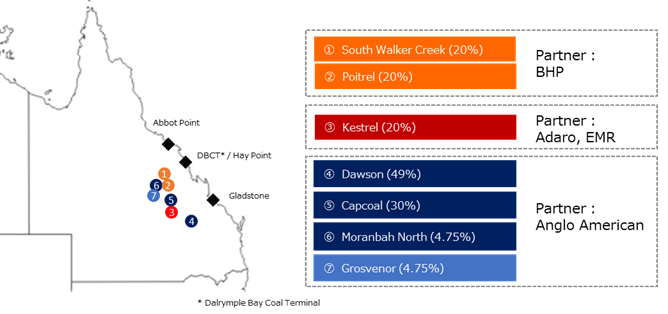 Coal Handling and Preparation Plant at Mine site