Main Contents
Mitsui & Co., Ltd. ("Mitsui", Head Office: Tokyo, Japan, President and CEO: Tatsuo Yasunaga) has entered into an agreement to subscribe to new shares issued by International Columbia U.S. LLC to increase its shares. International Columbia U.S. LLC is the holding company of Columbia Asia (Head Office: Petaling Jaya, Malaysia, Group CEO: Dr. Kelvin Loh), the largest international hospital group in Asia targeting the rapidly growing middle- and upper-middle-income patients. Mitsui's additional investment of USD 140 mil will bring its total interest to 26.09%, almost the same percentage as that of the founding members, the Baty Family, who hold 26.14%.
In India and Southeast Asian countries, chronic diseases are increasing along with population growth and economic development. However, there is still a lack of medical infrastructure and the region is in need of efficient and effective medical services. Columbia Asia has 29 hospitals and 2 clinics (about 2,600 beds) in 5 countries, namely in Malaysia, India, Indonesia, Vietnam, and Kenya, serving more than 2.5 million outpatients yearly in fields of orthopedics, internal medicine, general surgery, pediatrics, and obstetrics & gynecology, which cover about 80% of the medical needs in these countries.
Columbia Asia will use this capital expansion to strengthen group operations through organizational restructuring, continual development of new hospitals, expansion of existing hospitals, and investment into new IT technology and medical equipment. Since its founding in 1994, almost all of Columbia Asia's hospitals have been greenfield developments and Columbia Asia has the ability and knowhow to operate them efficiently. Columbia Asia group will strive to grow at a higher speed through improving its operation and services. In addition to the clinic opened in Kenya and the expansion of the number of beds in the hospital in Indonesia, Columbia Asia has opened two new hospitals, 1 in Malaysia and 1 in India, with a combined total of over 300 beds, in 2017. Now, two hospital expansions are under construction, and at this pace, Columbia Asia will become a hospital group with 45 hospitals, with a combined total of over 4,000 beds, by 2025.
Since investing in Columbia Asia in July of 2016, Mitsui has been working together with the founding family to create a medical platform adapted to each country. Mitsui will continue to contribute to the growth of the business through profit maximization and growth plan strategizing. With the additional investment, Mitsui will strengthen the partnership with the founding members even more, drive business growth, and commit to solving the medical supply-demand gap in Asian countries.
Also, in May of 2017, Mitsui announced in its Medium-term Management Plan that Mitsui positions "Healthcare" as a key new growth area. With the vision of "Creating a future for all patients and all people involved in medical care," Mitsui aspires to establish a sustainable "healthcare ecosystem" through achieving the growth of IHH group and Columbia Asia group by integrating and linking/bridging them with our existing healthcare related assets, in the areas of "people," "products," "services," and "Information."
Profile of the holding company
| | |
| --- | --- |
| Company Name | International Columbia U.S. LLC <ICU> |
| Establishment | November, 2004 |
| Representative | Daniel. R. Baty |
| Shareholders | Mitsui: 26.09%, Founding family: 26.14%, Other individuals: 47.77% |
| Business Activities | Joint holding company of Columbia Asia |
Profile of Columbia Asia
Please scroll horizontally to look at table below.
Company Name
Columbia Asia Healthcare Sdn. Bhd.
Columbia Asia Hospitals Private Limited
Columbia Africa Healthcare Limited
Head Office
Petaling Jaya, Malaysia
Bangalore, India
Nairobi, Kenya
Establishment
March, 1994
December, 2003
July, 2016
Representative
Dr. Kelvin Loh
Business Activities
Operation of clinics and hospitals
Operation of hospitals
Operation of clinic
Business Locations
Malaysia
(12 hospitals, about 900 beds)
Indonesia
(3 hospitals, about 400 beds)
Vietnam
(2 hospitals·1clinic, about 1,00 beds)
India
(12 hospitals, about 1,200 beds)
Kenya
(1 clinic)
Investment Scheme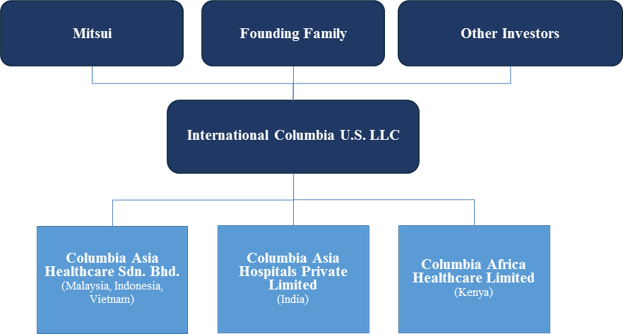 Recently Opened Hospitals