Main Contents
Mitsui & Co., Ltd. ("Mitsui", Head Office: Tokyo, Japan, President and CEO: Tatsuo Yasunaga) subscribed to a third-party new share allotment by International Columbia U.S. LLC, the holding company for Columbia Asia Healthcare Sdn. Bhd. (Head Office: Petaling Jaya, Malaysia) and Columbia Asia Hospitals Private Limited (Head Office Bangalore, India) (collectively "Columbia Asia", Group CEO: John Northen). Also acquiring shares from multiple shareholders, Mitsui will invest a total of approximately USD 101 million and participate in the hospital operations of Columbia Asia.
Columbia Asia, established in 1994, is one of Asia's largest hospital groups targeting middle class patients and currently operates a total of 27 hospitals and 1 clinic in Malaysia, India, Indonesia, and Vietnam. Serving mainly primary and secondary care to middle-income patients, Columbia Asia plays a supplementary role for public and private hospitals that provide tertiary care or center of excellence. By efficient hospital operations achieved through standardized operations and utilization of one shared IT platform across all facilities, Columbia Asia delivers a safe and high-quality medical treatment to its patients. In addition, highly transparent price-settings facilitate building a strong relationship with corporations and private healthcare insurance companies.
In the four countries where Columbia Asia operates, the annual healthcare expenditure accounts for just 4.5% of the GDP, which is by far lower than the average of 8.9% in OECD countries (*).The medical expenditure in the four countries is expected to increase along with economic development and aging of society. Meanwhile, there remains a shortage of healthcare infrastructure, such as hospitals and clinics, and the growing gap between supply and demand for medical treatment is becoming crucial issue of the society. Furthermore, with the spread of private health insurance, there is a growing need for private hospitals offering outstanding hospitality and reliable medical treatment to middle-income patients.
Mitsui identifies healthcare as one of its key strategic domains and has expanded its business platform in this field with a focus on IHH Healthcare Bhd. ("IHH"), Asia's largest private healthcare group which Mitsui has been involved in since 2011. Mitsui's initiatives include the acquisition of the MIMS Group, an IT healthcare network providing drug information to approximately 2 million healthcare professionals in the Asia-Oceania region, and an agreement to participate in DaVita Care Pte. Ltd. ("DaVita Care"), an Asian operating company for the largest dialysis operator in the United States.
Through the investment in Columbia Asia, Mitsui will expand its hospital business and promote the establishment of a healthcare network that covers a broad range of preventive and prognostic services through mutual partnerships between IHH, MIMS Group, and DaVita Care.
(*) Simple average of medical expenditure percentage within GDP in the surveyed countries in 2013; taken from World Bank and OECD materials
Profile of the holding company (prior to completion of investment)
| | |
| --- | --- |
| Company Name | International Columbia U.S. LLC <ICU> |
| Head Office | Seattle, Washington, United States |
| Establishment | November, 2004 |
| Representative | Daniel. R. Baty |
| Shareholders | Founding family: 32%, Other individuals: 68% |
| Business Activities | Joint holding company of Columbia Asia |
Profile of Columbia Asia
Company Name
Columbia Asia Healthcare Sdn. Bhd.
Columbia Asia Hospitals Private Limited
Head Office
Petaling Jaya, Malaysia
Bangalore, India
Establishment
March, 1994
December, 2003
Representative
John Northen
Business Activities
Operation of clinics and hospitals
Operation of hospitals
Business Locations
A total of 16 hospitals and 1 clinic (1,265 beds in total) in Malaysia, Indonesia, and Vietnam
A total of 11 hospitals (1,018 beds in total) in India
Website
Investment Scheme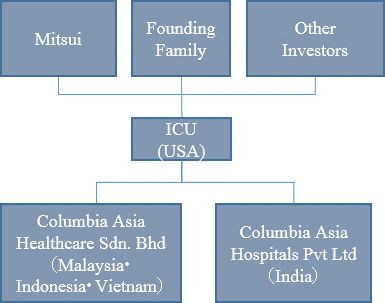 IHH and Columbia Asia's Positioning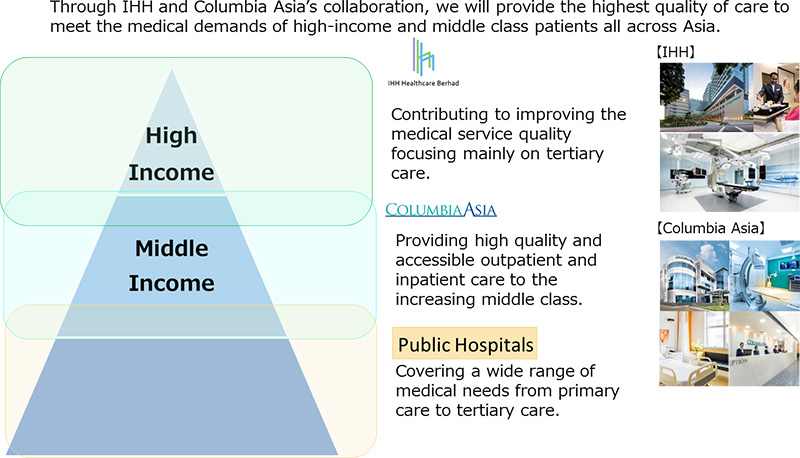 Healthcare Network
Notice:
This announcement contains forward-looking statements. These forward-looking statements are based on Mitsui's current assumptions, expectations and beliefs in light of the information currently possessed by it and involve known and unknown risks, uncertainties and other factors. Such risks, uncertainties and other factors may cause Mitsui's actual results, financial position or cash flows to be materially different from any future results, financial position or cash flows expressed or implied by these forward-looking statements. These risks, uncertainties and other factors referred to above include, but are not limited to, those contained in Mitsui's latest Annual Securities Report and Quarterly Securities Report, and Mitsui undertakes no obligation to publicly update or revise any forward-looking statements.
This announcement is published in order to publicly announce specific facts stated above, and does not constitute a solicitation of investments or any similar act inside or outside of Japan, regarding the shares, bonds or other securities issued by us.