Announcement of Final Investment Decision to Expand Indonesia's Tangguh LNG Facility
---
Mitsui & Co., Ltd.
Mitsubishi Corporation
Inpex Corporation
JX Nippon Oil & Gas Exploration Corporation
LNG Japan Corporation
Sumitomo Corporation
Sojitz Corporation
Japan Oil, Gas and Metals National Corporation
---
Main Contents
We, the shareholders of the Tangguh Production Sharing Contract Partners led by BP, the project operator, today announced that the final investment decision (FID) has been approved to advance the development of the Tangguh Expansion Project in the Papua Barat Province of Indonesia. The decision follows the government of Indonesia's approval of the Plan of Development II in 2012 and issuance of the project's environmental and social impact assessment (AMDAL) and environmental permit in 2014.
The Tangguh Expansion Project will add a third LNG process train (Train 3) with 3.8 million tons per annum (mtpa) of production capacity to the existing facility (two trains with 7.6 mtpa of production capacity). The project also includes two offshore platforms, 13 new production wells, a new LNG jetty, and supporting infrastructure. The commencement of production is expected in 2020.
The Tangguh Expansion Project will play an important role in supporting Indonesia's growing energy demand, with 75% of the Train 3 annual LNG production sold to the state electricity company PT. PLN (Persero). The remaining volumes are under contract to THE KANSAI ELECTRIC POWER CO., INC., the other foundation buyer for Train 3, contributing to Japan's national energy security.
Awards for the project's key engineering, procurement and construction (EPC) contracts are expected in the third quarter with construction to begin thereafter.
All the Japanese partners commit themselves to contribute to diversifying energy supply and securing competitive natural resources to Japan, through helping stable production and supply from Tangguh LNG project.
Notes to editors
The Tangguh LNG plant is located in Teluk Bintuni Regency, Papua Barat Province of Indonesia. It is operated by BP Berau Ltd on behalf of the other production sharing contract partners as contractor to SKK Migas. BP Berau Ltd and its affiliates in Indonesia hold a 37.16% interest in the project. Other Tangguh production sharing contract partners are MI Berau B.V. (16.30%), CNOOC Muturi Ltd. (13.90%), Nippon Oil Exploration (Berau), Ltd. (12.23%), KG Berau Petroleum Ltd (8.56%), Indonesia Natural Gas Resources Muturi Inc. (7.35%), Talisman Wiriagar Overseas Ltd. (3.06%) and KG Wiriagar Petroleum Ltd (1.44%).
Project Location Map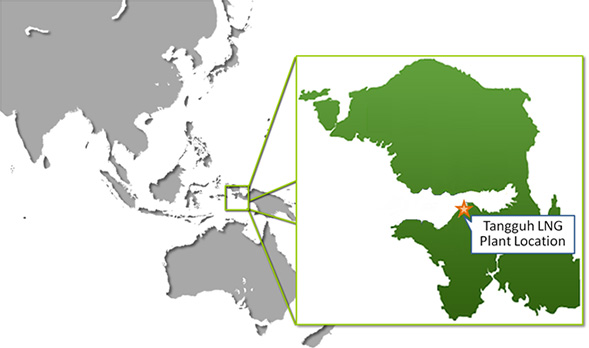 Plant Facility (existing 2 trains, LNG tanks and Jetty)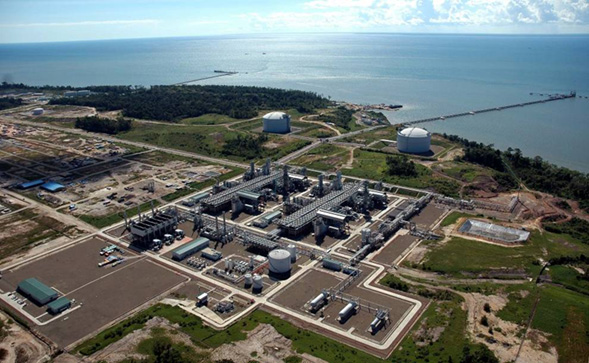 Notice:
This announcement contains forward-looking statements. These forward-looking statements are based on Mitsui's current assumptions, expectations and beliefs in light of the information currently possessed by it and involve known and unknown risks, uncertainties and other factors. Such risks, uncertainties and other factors may cause Mitsui's actual results, financial position or cash flows to be materially different from any future results, financial position or cash flows expressed or implied by these forward-looking statements. These risks, uncertainties and other factors referred to above include, but are not limited to, those contained in Mitsui's latest Annual Securities Report and Quarterly Securities Report, and Mitsui undertakes no obligation to publicly update or revise any forward-looking statements.
This announcement is published in order to publicly announce specific facts stated above, and does not constitute a solicitation of investments or any similar act inside or outside of Japan, regarding the shares, bonds or other securities issued by us.