Main Contents
Mitsui & Co., Ltd. ("Mitsui", Head Office: Tokyo, President and CEO: Tatsuo Yasunaga) has acquired an equity stake in OSIsoft, LLC ("OSIsoft"), a global leader in data management technologies for industrial customers, M2M systems, and the Internet of Things. Additionally, OSIsoft and Mitsui have entered into memorandum of understanding to explore business opportunities. Mitsui will support the expansion of OSIsoft's PI System through its global network of affiliated customers and business partners and will look to develop new IoT solutions with OSIsoft and various partners.
IoT promises to generate more data, in more formats and locations creating even greater complexity for managing and utilizing operational data. OSIsoft developed the PI System as a universal industrial data infrastructure to centralize, manage and share data throughout organizations. Compatible with hundreds of software applications and interfaces, the PI System transforms disparate streams of information into a comprehensive data infrastructure. With insight generated by the PI System, organizations can increase productivity, improve quality and safety, and make better long-term strategic decisions.
Deployed at over 17,000 sites across over 125 countries worldwide, the PI System is used by enterprises to capture, monitor and visualize operational data such as energy consumption, productivity or complex process flows in real time. Over 1000 leading utilities, 95 percent of the top oil and gas companies, numerous government agencies and more than 65% of the Fortune 500 industrial companies have deployed the PI System. Worldwide, the PI System manages over 1.5 billion real-time sensor-based data streams. The PI System is rapidly growing and being deployed in new areas such as transportation, telecom, datacenter and smart cities where there is increasing pressure to more effectively manage and access data in real-time to improve operations.
In addition, there are growing needs to use operational data in advanced analytics, visualization and big data initiatives to drive new insights and innovations for operational improvements. For example, power industries are using the PI System with big data analytics for predictive maintenance. Additionally, the combination of the PI System and Geographic Information System applications is enabling optimized maintenance for distributed assets such as pipelines and wind turbines to support huge cost reductions.
"OSIsoft is a proven pioneer in technology that unleashes the power of data," said Nobuaki Kitamori, Executive Managing Officer and COO of IT & Communication Business Unit of Mitsui. "By leveraging our various business assets and unique position in the industry, we can help companies create new services and meet the challenges of tomorrow."
"We are extremely gratified to be working with Mitsui, which has been global leader for over the years," said Dr. J. Patrick Kennedy, OSIsoft founder and CEO. "At OSIsoft we have always believed that people can transform the world through data. This alliance will enable us to bring the power of the PI System to a growing audience."
Mitsui will promote its Digital Transformation initiatives through the implementation of the PI System to its group companies to support operational efficiencies and new business model development.
About OSIsoft
| | |
| --- | --- |
| Name of Company | OSIsoft, LLC |
| Head Office | California, U.S.A. |
| Established | 1980 |
| Employees | 1,200+ |
| Representative | J. Patrick Kennedy |
| Shareholders | Founder, Kleiner Perkins Caufield Byers, Technology Crossover Ventures and Tola Capital |
| Business | Development and sales of PI System, an IoT data management software. |
About PI System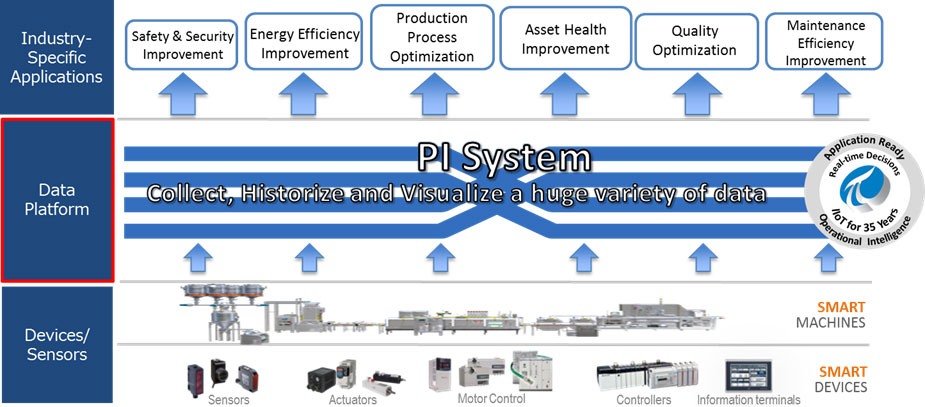 Notice:
This announcement contains forward-looking statements. These forward-looking statements are based on Mitsui's current assumptions, expectations and beliefs in light of the information currently possessed by it and involve known and unknown risks, uncertainties and other factors. Such risks, uncertainties and other factors may cause Mitsui's actual results, financial position or cash flows to be materially different from any future results, financial position or cash flows expressed or implied by these forward-looking statements. These risks, uncertainties and other factors referred to above include, but are not limited to, those contained in Mitsui's latest Annual Securities Report and Quarterly Securities Report, and Mitsui undertakes no obligation to publicly update or revise any forward-looking statements.
This announcement is published in order to publicly announce specific facts stated above, and does not constitute a solicitation of investments or any similar act inside or outside of Japan, regarding the shares, bonds or other securities issued by us.