Main Contents
Mitsui & Co., Ltd. ("Mitsui", Head Office: Tokyo, President and CEO: Tatsuo Yasunaga) has entered into an agreement with West Japan Railway Company ("West Japan Railway", President: Seiji Manabe, Head Office: Osaka) and Japan Overseas Infrastructure Investment Corporation for Transport & Urban Development ("JOIN", Head Office: Tokyo, President and CEO: Takuma Hatano) on the sale of 49.9% of Mitsui's shares in Guarana Urban Mobility Inc. ("GUMI"), Mitsui's wholly owned subsidiary engaged in the urban passenger rail business in Brazil. Mitsui signed a share sales agreement with West Japan Railway and JOIN on December 9, 2015.
In November 2014, Mitsui, with the aim of pursuing transportation concession and PPP (*1) business in the Brazilian urban transport sector, established Odebrecht Mobilidade S.A. ("OM"), which is a joint venture between the Odebrecht group and GUMI. OM owns four businesses: (1) the SuperVia suburban railway in Rio de Janeiro State (already in operation); (2) the No. 6 subway line in São Paulo (opening scheduled for 2021); (3) an LRT (*2) system in Rio de Janeiro City (opening scheduled for 2016); and (4) an LRT system in Goiania (opening scheduled for 2018). OM plans to continue its investment in and development of new urban transportation businesses in major Brazilian cities.
In Brazil, the expansion of public transport capacity has become an urgent priority for cities, especially Rio de Janeiro, which will host the 2016 Olympic and Paralympic Games. The four businesses owned by OM will respond to expanding transportation demand in the cities concerned and are expected to contribute to urban development as high-quality core transportation infrastructure. The participation of JOIN as a shareholder will facilitate negotiations with state and city governments and ensure the stable management of the businesses. With West Japan Railway as a shareholder, GUMI has access to Japanese railway operating expertise with the potential to improve both safety and service. This initiative is also expected to raise international recognition of Japan's advanced railway operating expertise as the companies concerned build a track record of success in the operation of urban railways in Brazil.
For around 50 years since the 1960s, Mitsui has exported rolling stock, signal systems, and other equipment and undertaken railway-related design, procurement, and construction projects in Brazil. It invested in a rolling stock leasing business in 2003, the No. 4 subway line in São Paulo in 2007, and a freight rail business in 2014 in Brazil. Mitsui will use this experience and the knowledge of railway operations gained through this project to develop transportation concession and PPP business projects in Brazil and other markets.
(*1) Public-Private Partnership
(*2) Light Rail Transit
Investment Structure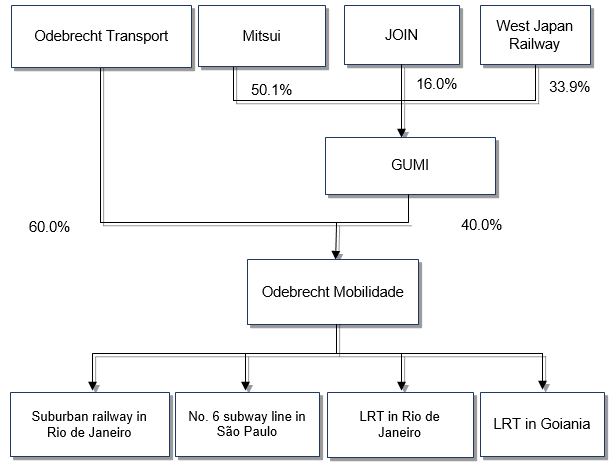 Businesses Included in the Deal
Please scroll horizontally to look at table below.
SuperVia
(Suburban railway in Rio de Janeiro)
No. 6 subway line
in São Paulo
LRT in Rio de Janeiro
LRT in Goiania
Business format/
period
Concession/
1998-2048
PPP/
2014-2039
PPP/
2013-2038
PPP/
2016-2051
Opening date
In operation
2021
2016
2018
OM shareholding
60.0%
13.7%
24.9%
90.0%
System/rail length
Suburban lines/270km
Subway/15.3km
LRT/28km
LRT/14km
Capacity
1.7 million people/day
1.million people/day
285,000 people/day
240,000 people/day
Odebrecht TransPort
Company Name
Odebrecht TransPort S.A.
Head office
São Paulo, Brazil
Foundation
2008
Capital structure
Odebrecht S.A. 59.39%
FI-FGTS(*) 30.00%
BNDESPar(**) 10.61%

(*) Investment fund managed by Caixa Economica Federal
(**) Investment arm in BNDES system
Main business
Investment and operation of concession of transportation infrastructure area
Odebrecht S.A.
| | |
| --- | --- |
| Company Name | Odebrecht S.A. |
| Head office | Bahia, Brazil |
| Foundation | 1944 |
| Employees | Approximately 175,000 persons (Consolidated) |
| Main business | Holding company of Odebrecht Group |
| Website | |
Notice:
This announcement contains forward-looking statements. These forward-looking statements are based on Mitsui's current assumptions, expectations and beliefs in light of the information currently possessed by it and involve known and unknown risks, uncertainties and other factors. Such risks, uncertainties and other factors may cause Mitsui's actual results, financial position or cash flows to be materially different from any future results, financial position or cash flows expressed or implied by these forward-looking statements. These risks, uncertainties and other factors referred to above include, but are not limited to, those contained in Mitsui's latest Annual Securities Report and Quarterly Securities Report, and Mitsui undertakes no obligation to publicly update or revise any forward-looking statements.
This announcement is published in order to publicly announce specific facts stated above, and does not constitute a solicitation of investments or any similar act inside or outside of Japan, regarding the shares, bonds or other securities issued by us.