Main Contents
A consortium consisting of Mitsui & Co., Ltd. ("Mitsui", Head Office: Tokyo, President and CEO: Tatsuo Yasunaga), Ircon International Limited ("IRCON", Head Office: New Delhi, National Capital Territory of Delhi, India, Chairman & Managing Director: Mohan Tiwari), a company under the Ministry of Railways, Government of India, and Tata Projects Limited ("TPL", Head Office: Secunderabad, Telangana, India, Managing Director: Vinayak Deshpande), an infrastructure development company in the Tata Group, has been awarded orders totaling approximately ¥76 billion by the Dedicated Freight Corridor Corporation of India Ltd., a corporation under the Indian Ministry of Railways. The orders are for civil and track works from Vaitarana, Maharashtra to Sachin, Gujarat (186 kilometers), and from Sachin to Vadodara, Gujarat (134 kilometers) ("Project"), as part of a plan to build a dedicated freight line through India's largest industrial area between Delhi and Mumbai. The total length of the two sections is 320 kilometers.
Mitsui will be the consortium leader for the Project. IRCON and TPL will jointly carry out civil engineering work and lay tracks, using high-quality Japanese-made rails.
The purpose of this Project is to meet increasing rail freight demand resulting from India's rapid economic growth in recent years. The new tracks will form part of the Western Dedicated Freight Corridor (DFC) between Delhi and Mumbai. The DFC project will eventually link the four cities of Delhi, Mumbai, Chennai and Kolkata at the corners of India's Golden Quadrilateral. The Japanese government has provided yen loans for the Western DFC project under the Special Terms for Economic Partnership (STEP).
The Western DFC will be the backbone of the Delhi Mumbai Industrial Corridor (DMIC) scheme, a joint initiative by the Japanese and Indian governments. In addition to reducing the load that is on the existing tracks, it will reduce the time required to move freight from Delhi to Mumbai from over three days at present to less than one day. This major improvement in logistical efficiency is expected to make a significant contribution to industrial development in India.
Mitsui will continue to work on this Project, which symbolizes cooperation between the governments of Japan and India. We will also continue to play an active role in urban transit and high-speed rail projects to meet anticipated growth in the demand for core infrastructure. By introducing Japan's advanced railroad technology, we aim to contribute to further economic development in India.
Profile of the Project
Line Length
Vaitarana-Sachin: 186 km (PKG12 in the map below)
Sachin-Vadodara: 134 km (PKG13)
Contract Price
Total of approximately ¥76 billion
Delivery Date
208 weeks (approximately 4 years) from the start of work
Purpose
Dedicated freight railroad
Content of Project
Civil engineering and track-laying work
Section Covered by Contract
Approximately 320 kilometers from Vaitarana, Maharashtra to Vadodara, Gujarat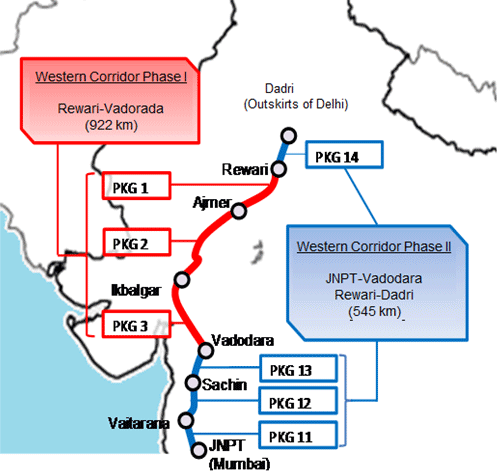 Profile of IRCON
Name of Company
Ircon International Limited
Head Office
Delhi, India
Establishment
1976
Capital Structure
Indian central government: 99.729%
IRFC (finance company affiliated to the Indian Ministry of Railways): 0.247%
Bank of India (central bank) 0.024%
Business Activities
Infrastructure development, construction
Website
Profile of TPL
| | |
| --- | --- |
| Name of Company | Tata Projects Limited |
| Head Office | Secunderabad, Telangana |
| Establishment | 1979 |
| Capital Structure | Closely held by Tata Group companies |
| Business Activities | Engineering, construction |
| Website | |
Notice:
This announcement contains forward-looking statements. These forward-looking statements are based on Mitsui's current assumptions, expectations and beliefs in light of the information currently possessed by it and involve known and unknown risks, uncertainties and other factors. Such risks, uncertainties and other factors may cause Mitsui's actual results, financial position or cash flows to be materially different from any future results, financial position or cash flows expressed or implied by these forward-looking statements. These risks, uncertainties and other factors referred to above include, but are not limited to, those contained in Mitsui's latest Annual Securities Report and Quarterly Securities Report, and Mitsui undertakes no obligation to publicly update or revise any forward-looking statements.
This announcement is published in order to publicly announce specific facts stated above, and does not constitute a solicitation of investments or any similar act inside or outside of Japan, regarding the shares, bonds or other securities issued by us.