Mitsui & Co., Ltd. ("Mitsui", Head Office: Chiyoda-ku, Tokyo, President and CEO: Kenichi Hori) has agreed to subscribe for new shares in WE Tech Solutions Oy ("WE Tech", Head Office: Vaasa, Finland) issued through a third-party allocation.
WE Tech is an engineering company that promotes the efficient use of electricity on ships and aims to contribute to the decarbonization of the shipping industry by employing highly efficient next-generation ship energy systems. Through the provision of solutions utilizing permanent magnet synchronous shaft generators*, which have been recently attracting attention as efficient sources of electrical power supply on ships (its energy efficiency is about 3-4% higher than those of conventional synchronous generators), WE Tech has been able to realize fuel efficiency improvements and reductions in CO2 emissions. WE Tech has been steadily extending its track record, mainly in the fields of gas carriers, pure car carriers, and container ships, whose electricity consumption during operation is relatively large.
Going forward, similar to the automotive industry, the shipping industry is expected to shift toward fuel cells and batteries in the global effort toward decarbonization, and its reliance on electricity will likely become even more significant. There is significant expectation for WE Tech, whose advantages lie in the efficient use of electricity, to further exert its system integration capabilities.
In addition to the expansion of sales of WE Tech products through the utilization of its industry knowledge and customer networks developed over many years in the vessel-trading and vessel- owning business, Mitsui will also focus on strengthening the competitiveness of the Japanese maritime cluster, which is represented by shipbuilding and ship machinery manufacturing, by incorporating advanced power electronics technologies from Europe.
Mitsui has identified "Global Energy Transition" as one of its key strategic initiatives in its Medium-term Management Plan 2026. Through the acquisition of shares in WE Tech, Mitsui will promote decarbonization in the shipping industry and contribute to the creation of a society in harmony with the environment.
*A shaft generator is a device that efficiently produces electricity by utilizing the rotational motion of the propeller used for ship propulsion. Permanent magnet-type generators have the advantages of high efficiency and compact and lightweight bodies, compared to conventional types.
Company Profile
| | |
| --- | --- |
| Official name | WE Tech Solutions Oy |
| Head Office Location | Vaasanpuistikko 19, 2nd floor, 65100 Vaasa, Finland |
| Established | 2008 |
| Representative | Marten Storbacka |
| Number of employees | 43 employees |
| Business Activities | Provision of next-generation ship energy systems (including design and development, procurement, sales, commissioning, and after-sales services), which realize maximization of onboard electric energy efficiency, to shipyards. The company itself engages in the finalization of system configuration and specifications, software development, and the designing of converters for ships (but does not possess manufacturing or assembling facilities), and externally procures devices to be delivered. |
| Website | |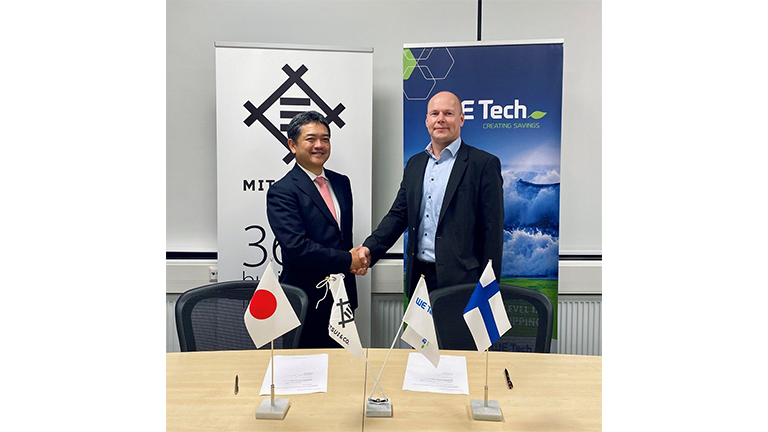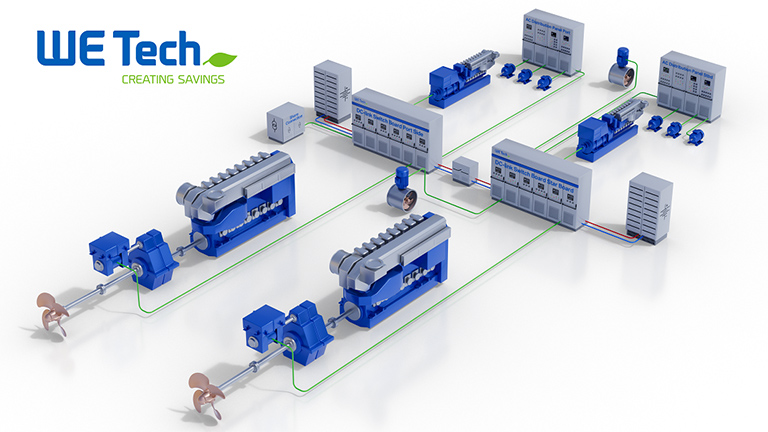 ---
Mitsui's Materiality
"Build brighter futures, everywhere" as our corporate mission, and to gain the trust and expectations of our stakeholders to realize a better tomorrow for earth and for people around the world, we have identified five material issues ("Materiality") for Mitsui's sustainable growth. We anticipate this particular project/ business to contribute especially to the realization of "Create an eco-friendly society"
Secure sustainable supply of essential products

Enhance quality of life

Create an eco-friendly society

Develop talent leading to value creation

Build an organization with integrity