Mitsui & Co., Ltd. ("Mitsui", Head Office: Tokyo, President and CEO: Kenichi Hori) and Taiyo Oil Co., Ltd. ("Taiyo Oil", Head Office: Tokyo, Representative Member of the Board, President and CEO: Yutaka Oka) have agreed to conduct a joint study concerning the production of ethanol-based sustainable aviation fuel (SAF) and renewable diesel (RD, a light diesel oil alternative).
The purpose of this project is to build a reliable supply chain for high-quality SAF and RD in anticipation of future growth in demand for these fuels. The project will combine the Alcohol-to-Jet (ATJ) technology* of the American company LanzaJet, Inc.,the plant operating expertise developed by Taiyo Oil and its subsidiary Nansei Sekiyu K.K. ("Nansei Sekiyu") through their oil refining business, with Mitsui's procurement capabilities of ethanol feedstock. The project aims to commence production in fiscal 2028 at a site owned by Nansei Sekiyu, with a maximum yearly output of 220,000 kiloliters of Japanese-made SAF/RD. SAF can be used as an aviation fuel, while RD is suitable for buses, trucks, and other means of transportation that use light diesel oil as their fuel.
In April 2023, this study was selected by the Okinawa General Bureau of the Cabinet Office as part of the FY2023 Okinawa Clean Energy Introduction Promotion Research Program.
Mitsui has identified the expansion of business that helps to address climate change as a major priority. The company sees the production and supply of SAF as a resolution of a major hurdle to the achievement of carbon neutrality in the aviation sector by 2050, as well as a medium- to long-term business opportunity, and will continue to contribute to the decarbonization of the aviation industry and the reliable supply of low-carbon fuels through this initiative.
*ATJ technology: This technology employs a catalytic reaction to manufacture SAF and RD from alcohol (ethanol), and has been certified for use in aircraft under the required ASTM standards (ASTM D7566 Annex 5).
Company Profile
Name
Taiyo Oil Company, Limited
Address
15F Hibiya Kokusai Bldg., 2-2-3 Uchisaiwai-cho, Chiyoda-ku, Tokyo 100-0011
Established
February 27th 1941
President & CEO
Yutaka Oka
Number of Employees
738persons (as of April 1, 2023)
Business lines
1. Import, export, refining, and marketing of petroleum products.
2. Manufacturing, processing, and sales of petrochemical-based products, including benzene and xylene.
Website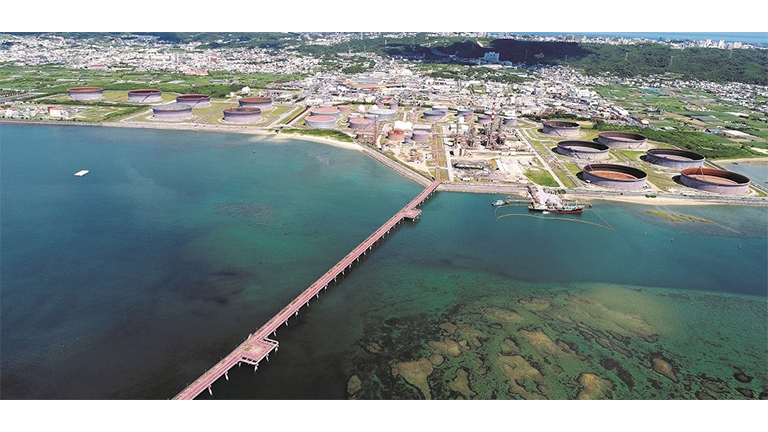 ---
Mitsui's Materiality
"Build brighter futures, everywhere" as our corporate mission, and to gain the trust and expectations of our stakeholders to realize a better tomorrow for earth and for people around the world, we have identified five material issues ("Materiality") for Mitsui's sustainable growth. We anticipate this particular project/ business to contribute especially to the realization of "Secure sustainable supply of essential products" and "Create an eco-friendly society" and "Develop talent leading to value creation"
Secure sustainable supply of essential products

Enhance quality of life

Create an eco-friendly society

Develop talent leading to value creation

Build an organization with integrity