Mitsui & Co., Ltd. ("Mitsui", Head Office: Tokyo, President and CEO: Kenichi Hori) today launched the "Green & Circular" website. Developed in response to rising global concern about climate change, the site offers customers a collection of information about decarbonization solutions provided by Mitsui's business units.
【URL】 https://www.mitsui.com/solution/
The "Green & Circular" website features solutions and up-to-the minute information made available by Mitsui and its affiliated companies to help companies realize decarbonization. By creating a site with comprehensive access to information about the latest decarbonization-related initiatives across the entire Mitsui & Co. group, Mitsui is offering companies a framework for considering their own approaches to decarbonization. The aim is to give easy access to the solutions deliverable during each business phase by the Mitsui & Co. group, as well as a channel for submitting inquiries.
Initially the site will provide information for customers and partners in Japan, and Mitsui plans to launch an English version of the site in the future.
One of the priorities identified in Mitsui's Materiality is to "create an eco-friendly society", and climate change is a priority focus for sustainability management under Mitsui's Medium-term Management Plan 2023. Mitsui is globally engaged in a wide spectrum of business activities toward finding solutions to global issues, such as mitigating and addressing climate change, while contributing to economic and social development in various countries and regions. Mitsui will strive to contribute to global decarbonization initiatives by continuously sharing comprehensive information about these initiatives through the "Green & Circular" website.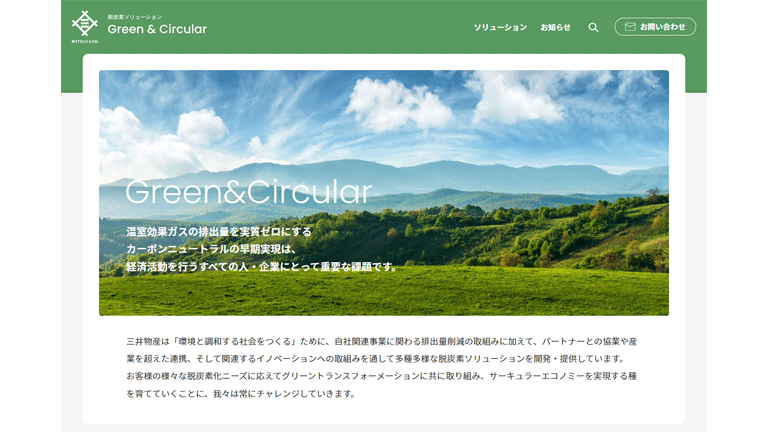 ---
Mitsui's Materiality
"Build brighter futures, everywhere" as our corporate mission, and to gain the trust and expectations of our stakeholders to realize a better tomorrow for earth and for people around the world, we have identified five material issues ("Materiality") for Mitsui's sustainable growth. We anticipate this particular project/ business to contribute especially to the realization of "Create an eco-friendly society"
Secure sustainable supply of essential products

Enhance quality of life

Create an eco-friendly society

Develop talent leading to value creation

Build an organization with integrity