The Mitsui & Co. Environment Fund
Introduction to Grant Projects
INDEX="7" NAME="Establishing economic independence for indigenous people of the Amazon through beekeeping projects" TYPE="活動助成," YEAR="2019年度," AREA="中南米," KIND="NPO," ORG="Rainforest Foundation Japan (NPO)"
Rainforest Foundation Japan (NPO)
Establishing economic independence for indigenous people of the Amazon through beekeeping projects
Activity grant
Project Description

In 2019, the Amazon rainforest wildfires made international news, and the protection of the remaining forest area and the indigenous peoples who live there remains an important global environmental issue. This project seeks to implement beekeeping projects for the indigenous indio people of the Amazon rainforest, and is epoch-making in that it not only contributes to the protection and survival of the rainforest, but also ensures that the indigenous people who live there can obtain the means of economic self-sustenance. So far, activities have focused on setting up the means of honey production and distribution in two villages. If this can be used as a model case, it is expected that independent operations can be assumed and expanded into other regions. This breakthrough project aims to achieve symbiosis between indigenous peoples and Brazilian society while passing along indigenous culture and contributing to the fulfillment of the SDGs. [No. K19-0037]

Mitsui & Co. Environment Fund FY2019 Activity Grants List (PDF 470KB)
Fields

Relationship between People and Society
Grant year

FY2019 Activity Grants
Grant term

2 years (April 2020 - March 2022)
Grant amount

¥4,800,000
Activity region

The Federative Republic of Brazil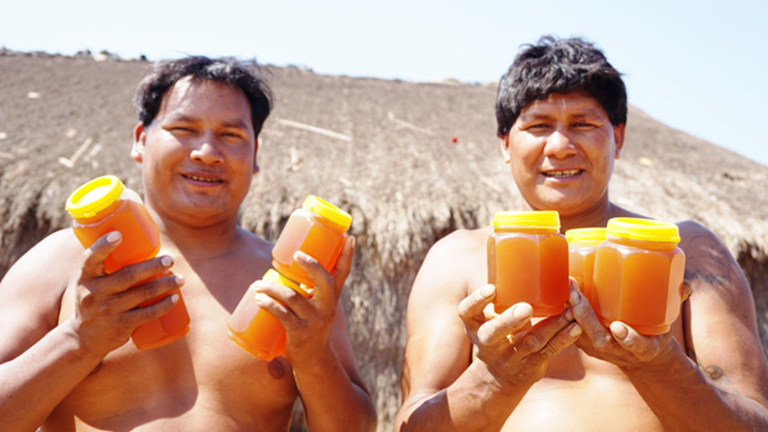 Overview of the Organization

Project organization

Rainforest Foundation Japan (NPO)

Representative

Executive Director and Chairperson: Kenko Minami

Establishment

1989

Establishment Purpose

The Amazon rainforest, which serves as a global source of oxygen, is in decline due to development efforts based on economic prioritization. RFJ was established for the purpose of protecting the rainforest and supporting the survival of the indigenous indio people who have historically inhabited it. In tandem with on-site rainforest protection and indigenous people support projects, RFJ also holds lectures in Japan and conducts educational activities intended to communicate the situation to the masses.

Recent Activities

Rainforest conservation projects: support for indigenous peoples' efforts to extinguish and prevent frequent and spontaneous fires, protect wildlife and research medicinal herbs and plants
Economic independence support projects: support for efforts such as beekeeping projects aimed at establishing economic independence among indigenous peoples
Medical support business: smergency support for those suffering from diseases for which there is no immunity, supplying helpful goods such as pharmaceuticals

Staff

Number of Full-time employees: 3 / Number of Part timers: 3 / Number of Members: 980(1 organization)

WEB site

Voice of Representative

While promoting the distribution of honey in the Brazilian market and the economic independence of indigenous peoples, the beekeeping projects in the Amazon support the regeneration and revitalization of the rainforest through bee pollination without causing damage to the natural environment, also contributing to the preservation of species diversity.