The Mitsui & Co. Environment Fund
Introduction to Grant Projects
INDEX="500" NAME="Planting activities in the former Matsuo mine wasteland area by utilizing fisheries waste products" TYPE="活動助成," YEAR="2007年度," AREA="日本全国,東北," KIND="NPO," ORG="Environmental ecology laboratory"
Environmental ecology laboratory
Planting activities in the former Matsuo mine wasteland area by utilizing fisheries waste products
Activity grant
Project Description

We will try to solve the following two problems for the former Matsuo mine site: obstacles restoring vegetation due to acidic soil and acidic water flowing upstream from Kitakami river in Iwate prefecture; and oyster shell and seaweed residue, which is a downstream fishery waste product of Miyagi prefecture. We will take action that includes utilizing oyster shells as a neutralizing agent for acidic soil, utilizing seaweed/bark as fertilizer, and planting Betula ermanii at the mining site. This experience will also be used for environmental learning.
Fields

Climate change

Marine resources/food

Preservation of surface soil and forests
Grant year

FY2007 Activity Grants
Grant term

3 years
April 2008 - March 2011
Grant amount

3,820,000 yen
Activity region

Hachinohe-city, Iwate-prefecture, Japan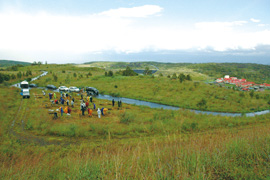 Overview of the Organization

Representative

Ryuichi Sudo, Chairperson

Established

2004

Establishment purpose

For this environmental problem, it is necessary for many residents to show accurate judgment using correct information, and it is essential to act towards solutions while conscious of global environmental problems. As experts on environmental problems, we will give back the knowledge and technology we have cultivated to local communities and residents. We aim to continuously carry out activities to fundamentally solve both regional and global environmental problems by implementing support based on academic knowledge of environmental measures and environmental education.

Main areas of activity

Centered on Tohoku region, nation-wide

Staff

1 full-time staff member, 3 part-time staff members, 97 full members

Annual operating income

13,000,000 yen in 2006, 16,000,000 yen in 2007, 14,000,000 yen in 2008

Main Activities

We have been engaged in water purification, biodiversity conservation research and environmental conservation activities for Izu-numa, implementing the "Ikizuku Lake and Contact Interpretation Model Project" commissioned by the Ministry of Environment for three years from fiscal 2005. Since fiscal 2008, as a voluntary initiative, we have continued research and activities related to Izunuma's environmental conservation up until present. In addition, in 2008, we carried out activities to improve the quality of small rivers flowing into Seki-dam in Rifu-town, Miyagi prefecture. One activity was to plant Carex dispalata in collaboration with the local Carex dispalata society to purify the river water. Another activity involved using water from the Agawanuma, an agricultural pond in Shichigahama, Miyagi Prefecture Shichigahama. In this activity, we grew Luffa (type of cucumber) together with elementary school students and while observing the growth we conducted environmental education to think about water pollution.