The Mitsui & Co. Environment Fund
Introduction to Grant Projects
INDEX="541" NAME="Residents' participation of natural forest restoration activities in the Aya Lucidophyllous Forest Project" TYPE="活動助成," YEAR="2007年度," AREA="日本全国,九州・沖縄," KIND="公益法人," ORG="The Nature Conservation Society of Japan"
The Nature Conservation Society of Japan
Residents' participation of natural forest restoration activities in the Aya Lucidophyllous Forest Project
Activity grant
Project Description

The project to restore artificial forest to natural forest has been ongoing in Aya Town, Miyazaki Prefecture since May of 2005. This is being carried out through national, prefectural, local and residential organizations in addition to our organization. In the future, to promote regional development where biodiversity conservation coexists with nature, we will conduct preliminary forest floor survey and thinning works with greater participation of citizens and will grasp and disseminate the results. Through this process, we will develop human resources which can actively carry out the activities in this project. In addition, we will implement the following: surveys, management, creation and revision of manuals, base development and creation of pamphlets which introduce activities and results.
Fields

Preservation of surface soil and forests

Preservation of biodiversity and ecosystem
Grant year

FY2007 Activity Grants
Grant term

3 years
April 2008 - March 2011
Grant amount

10,584,000 yen
Activity region

Aya Town, Miyazaki Prefecture, Japan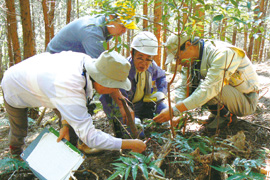 Overview of the Organization

Representative

Sadatoshi Tahata, Chairperson

Establishment

1951

Establishment purpose

Contribute to the conservation of the natural environment for the present and future generations. Through the following activities we will help people deepen their recognition of the environment and the activities: Carry out research and investigations on nature, clarify the importance of conservation of nature, conserve wildlife and other habitats, sustain natural resources, conserve biodiversity and endeavor to conserve nature on a broad scale.

Main areas of activity

Akatani, Gunma Prefecture, Okinawa, Yakushima, Ogasawara, AyaTown, Miyazaki Prefecture, etc.

Staff

27 full-time members, 24,000 full members

Annual operating budget

472,360,000 yen in 2005, 328,600,000 yen in 2006, 339,690,000 yen in 2007

WEB site

Main Activities

Research of nature and nature conservation; Collection, organization and provision of information; Recommendation of measures related to promotion of nature conservation; Conservation and restoration of wildlife and other habitats; Nature conservation related publication; Website creation; Event hosting; Development of human resources for environmental education; Communication and cooperation with domestic and international organizations regarding nature conservation. As a new strategy, we are implementing "the Aya Lucidophyllous Forest project" and "the Akatani project" in Akatani, Gunma prefecture with the cooperation of government and residents.