The Mitsui & Co. Environment Fund
Introduction to Grant Projects
INDEX="383" NAME="Planting the Qixiaying hillsides of Zhuozi County, Chinese Inner Mongolia, as a measure for combating global warming and eliminating poverty" TYPE="活動助成," YEAR="2009年度," AREA="アジア," KIND="公益法人," ORG="Chikyu Ryokuka Club"
Chikyu Ryokuka Club
Planting the Qixiaying hillsides of Zhuozi County, Chinese Inner Mongolia, as a measure for combating global warming and eliminating poverty
Activity grant
Project Description

In China's Inner Mongolia Autonomous Region, overcultivation has damaged vegetation and soil quality, and a policy is being implemented that aims to halt agriculture and reforest cultivated land. As an alternative to farming, local people can make a small income from working on government led planting initiatives, but it is not enough to eliminate poverty. This project aims to restore plant diversity and reduce poverty in the region by implementing mixed-planting initiatives that involve planting Japanese larch, which are also being used for the government initiatives, as well as native fruit trees that have money-earning potential, such as ansu apricots and saji. This will also prevent soil runoff and the spread of yellow dust, restore ecosystems, reduce CO2 emissions and create a model region for carbon offset.
Fields

Climate change

Preservation of surface soil and forests

Preservation of biodiversity and ecosystem
Grant year

FY2009 Activity Grants
Grant term

3 years
April 2010 - March 2013
Grant amount

5,058,000 yen
Activity region

Zhuozi County, Ulanqab, Inner Mongolia Autonomous Region, China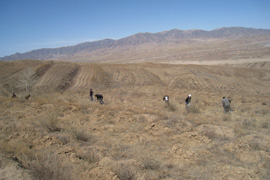 Overview of the Organization

Representative

Eijiro Hara, Representative Director

Establishment

2000

Establishment purpose

Desert cannot be greened by tree planting alone. Local people need to participate and lead initiatives in order for them to expand and become imitated, until greening becomes integrated into local livelihoods. The aim of Chikyu Ryokuka Club is to establish greening methods that can become a part of local industry, so that industrial development and the expansion of greening initiatives go hand-in-hand. It also works to pass on succesful methods to other organizations, removing the assumption that desert greening only involves planting, and promoting greening activities that can be expanded sustainably.

Main areas of activity

Inner Mongolia, China; Miyakejima, Tokyo, and Tokachi Subprefecture, Hokkaido, japan

Staff

2 full-time staff members, 3 part-time staff members, 97 full members

Annual operating budget

6.26 million yen in 2007, 9.33 million yen in 2008, 12.36 million yen in 2009

WEB site

Recent activities

Chikyu Ryokuka Club is engaged in cultivating vegetation, such as shrubbery, primarily in sand dune regions of China's Inner Mongolia. It also works on tackling poverty issues by planting marketable crops that are suitable for the local environment. Since 2008, it has been engaged in greening activities in Japan, including planting projects in the Tokachi area of Hokkaido and Miyakejima, Tokyo.