The Mitsui & Co. Environment Fund
Introduction to Grant Projects
INDEX="461" NAME="Environmental education using Japanese giant salamanders as symbols to teach the importance of river and forest ecosystems" TYPE="活動助成," YEAR="2008年度," AREA="日本全国,近畿," KIND="NPO," ORG="The Hanzaki Institute of Japan"
The Hanzaki Institute of Japan
Environmental education using Japanese giant salamanders as symbols to teach the importance of river and forest ecosystems
Activity grant
Project Description

The Ichikawa River that runs through Hyogo Prefecture is a habitat for the Japanese giant salamander, a nationally protected species. The Hanzaki Institute of Japan is using the Kurokawa Elementary and Junior High School building, which was previously abandoned, as a base for collaborating with other organizations to conduct research, develop habitat restoration methods, and support educational and training initiatives with the aim of restoring and conserving the local environment. This project aims to strengthen the organization's base, consolidate activities and improve their content by holding giant salamander and forest green tree frog observation events, riverside education sessions, eco-tours, and other events. These activities will raise issues facing the river ecosystems in which these giant salamanders are the top predator, giving participants a chance to consider how they should interact with nature.
Fields

Preservation of surface soil and forests

Preservation of biodiversity and ecosystem
Grant year

FY2008 Activity Grants
Grant term

2 years
April 2009 - March 2011
Grant amount

3,350,000 yen
Activity region

The Ikunocho Kurokawa area, Asago, Hyogo Prefecture, Japan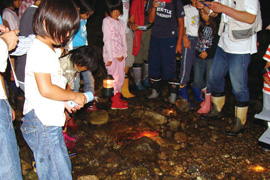 Overview of the Organization

Representative

Takeyoshi Tochimoto, Director

Establishment

2008

Establishment purpose

The Hanzaki Institute of Japan was established with the aim of conserving Japanese giant salamanders and their environments, cooperating and conducting exchanges with individuals and organizations that share similar aims, advancing research, developing conservation and restoration technology, supporting education and cultivating personnel, raising awareness, and carrying out publicity and exchange activities. Its goals are to conserve ecosystems and contribute to the creation of a sustainable society.

Main areas of activity

The Kinki region and most of Japan (mainly west of Gifu)

Staff

2 full-time staff members, 12 part-time staff members, 235 full members

Annual operating budget

700,000 yen in 2006, 1.09 million yen in 2007, 26.82 million yen in 2008

WEB site

Recent activities

(1) Research and technological development related to conserving and restoring natural environments
· Research into Japanese giant salamander behaviour
·Developing technology, such as environmentally-friendly secondary products
(2)Supporting extra-curricular and life-long learning activities, and cultivating personnel
· Creating educational materials and holding environmental education sessions
· Holding events such as observation tours of giant salamander habitats
(3)Collecting environmental data and using it to communicate and raise awareness
· Supporting the establishment of the Anko Museum
· Publishing monthly newsletters and quarterly journals
(4) Exchange activities with researchers and organizations that share similar goals
· Supporting regional exchange
· Supporting the Japanese Giant Salamander Conference (national event)
This particular project covers (2) and (3), with a focus on the former. The institute also regularly holds at least eight different events each year.