The Mitsui & Co. Environment Fund
Introduction to Grant Projects
INDEX="414" NAME="Yume Wakame Workshop" TYPE="活動助成," YEAR="2008年度," AREA="日本全国,関東," KIND="NPO," ORG="Association for Shore Environment Creation"
Association for Shore Environment Creation
Yume Wakame Workshop
Activity grant
Project Description

Despite the worsening water quality of Yokohama's Minato Mirai area, awareness regarding environmental conservation amongst the local public remains low. This project aims to purify water by cultivating wakame seaweed. Wakame grows quickly and combats eutrophication by absorbing nutrient salts, and it also produces oxygen through photosynthesis. Workshops and observation events will be held, with some of the wakame harvested being distributed among participants, and some being donated to overseas mountain tribes that are suffering ill health due to lack of iodine.
Fields

Climate change

Marine resources/food

Preservation of biodiversity and ecosystem
Grant year

FY2008 Activity Grants
Grant term

3 years
October 2008 - September 2011
Grant amount

3,686,820 yen
Activity region

Yokohama, Kanagawa Prefecture, and Kamaishi, Iwate Prefecture, Japan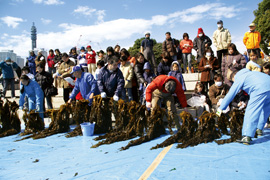 Overview of the Organization

Representative

Yasutsugu Yokohama, Director

Establishment

2001

Establishment purpose

The Association for Shore Environment Creation was established to contribute to regional revitalization and global environmental conservation by actively promoting initiatives to conserve, restore, and create coastal environments and build coastal communities in tune with nature, while also learning from the wisdom of our forebears and new knowledge provided by many people.

Main areas of activity

Coastal areas across Japan, including Tokyo Bay

Staff

2 full-time staff members, 1 part-time staff member, 106 full members

Annual operating budget

33.17 million yen in 2005, 42.73 million yen in 2006, 29.76 million yen in 2007

Recent activities

The association recruits many volunteers to implement initiatives including restoring marine algae and common eelgrass population in coastal regions, cultivating nori seaweed, education and restoration of mudflats, reconstructing Japanese ships, holding nature experiences, and cultivating nature experience instructors. It also works to rebuild the connection between people and nature through coastal environmental restoration activities.