The Mitsui & Co. Environment Fund
Introduction to Grant Projects
INDEX="438" NAME="Forest and Life Houses Project" TYPE="活動助成," YEAR="2008年度," AREA="中東・アフリカ," KIND="NPO," ORG="Friends Society for Kenyan Children (FRISKC)"
Friends Society for Kenyan Children (FRISKC)
Forest and Life Houses Project
Activity grant
Project Description

Kakamega Forest is the only remaining rainforest in East Africa and the habitat to many indigenous plant and animal species, but as it is located in a highly-populated and impoverished area, about half of its area has been logged for fuel and timber over the last 25 years. FRISKC has established a network of regional NGOs with the aim of encouraging the co-existence of local people with forests, and since 2000 it has been involving these people in environmental education and encouraging the cultivation of medicinal herbs. The project will be managed by this NGO network and aims to build a sustainable regional society by creating independent medicinal herb sales businesses as a source of revenue for local people. It will involve:
(1) Establishing 'Forest and Life Houses' as a base for activities, and developing medicinal products by teaching locals to cultivate, dry and sell medicinal herbs under the guidance from the International Centre of Insect Physiology and Ecology (ICIPE).
(2) Holding seminars on subjects such as Chinese herbal medicine for local people, and environmental education sessions for elementary schools and PTAs.
(3) Touring planting regions and expanding the project area.
Fields

Climate change

Preservation of surface soil and forests

Energy problem

Preservation of biodiversity and ecosystem
Grant year

FY2008 Activity Grants
Grant term

3 years
April 2009 - March 2012
Grant amount

12,698,000 yen
Activity region

Eastern Kakamega County, Kenya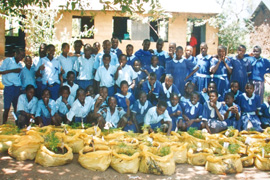 Overview of the Organization

Representative

Shunzo Chiba, Director

Establishment

1985

Establishment purpose

FRISKC was established during the World Conference on Women held in Nairobi, Kenya, in 1985 as an NGO for supporting children in the country. It works to support orphans and children from impoverished households to become independent and grow for their future, as well as deepen mutual understanding and cooperation between Japan and Kenya. It also contributes to increasing health, medical and welfare services, particularly for children.

Main areas of activity

Kakamega District, Western Province, and Suba District (including small islands in Lake Victoria), Nyanza Province, Kenya

Staff

3 full-time staff members, 5 part-time staff members, 617 full members

Annual operating budget

5.69 million yen in 2006, 40.46 million yen in 2007, 34.39 million yen in 2008

Recent activities

(1) Supporting the cultivation of human resources
a) Scholarship system for orphans and children from impoverished families (supporting 2,000 individuals between 1994 and 2005)
b) Established multi-discipline kindergartens on small islands in Lake Victoria (2008)
(2) Environmental conservation
a) Environmental education for elementary schools and PTAs in the area around Kakamega Forest (since 2000)
b) Encouraging the cultivation and use of medicinal herbs and trees in Kakamega Forest
c) Distributing improved stoves (to 60,000 households by 2005. Forest conservation through decreased firewood use)
(3) Healthcare
a) Supporting traveling clinics and the building of health facilities for small islands in Lake Victoria (2006-08)
b) Education to prevent HIV infection for small islands in Lake Victoria (since 2006)
c) Installing spring water purification equipment in Kakamega Forest (36 locations between 2004 and 2008) and tree planting in surrounding areas