The Mitsui & Co. Environment Fund
Introduction to Grant Projects
INDEX="435" NAME="Saga Castle Moat Lotus Restoration Project - a pioneering citizen-academia-government collaboration to remove invasive species and conserve ecosystems" TYPE="活動助成," YEAR="2008年度," AREA="日本全国,九州・沖縄," KIND="大学," ORG="Saga University Coastal Bioenvironment Center"
Saga University Coastal Bioenvironment Center
Saga Castle Moat Lotus Restoration Project - a pioneering citizen-academia-government collaboration to remove invasive species and conserve ecosystems
Activity grant
Project Description

Japan has an Invasive Alien Species Act to prevent harm from invasive plant and animal species to health, industry and ecosystems, but unless the level of public awareness on the issue is raised, occurences of damage could spread across the country, so urgent measures are needed. This project is a community activity focused on lotus and water-chestnuts, which have disappeared from the moat in the grounds of Saga Castle due to predation by red-eared sliders, an invasive turtle species. It involves:
(1) removing invasive species, including red-eared sliders,
(2) restoring lotus populations,
(3) carrying out environmental education for regional community associations and elementary schools, promoting the removal of invasive species, and raising awareness on the urgency of the issue across the country.
Fields

Climate change

Marine resources/food

Preservation of biodiversity and ecosystem
Grant year

FY2008 Activity Grants
Grant term

3 years
April 2009 - March 2012
Grant amount

4,555,250 yen
Activity region

Saga Prefecture, Japan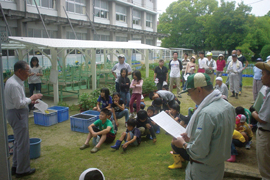 Overview of the Organization

Representative

Susumu Arima, Professor and Center Director

Establishment

2003

Establishment purpose

The Coastal Bioenvironment Center was established as a research facility to conduct basic research on the interaction between environment and human industry in coastal land and shallow sea areas. It conducts research on biological and environmental resources and ecosystems in coastal areas based on the fundamental cycle of mountain - agricultural region - river - shallow sea and its interdependent systems, and aims for the sustainable development of agricultural and marine product industries and livelihoods.

Main areas of activity

Japan and coastal regions in Asia

Staff

5 full-time staff members, 1 part-time staff member

Annual operating budget

21.02 million yen in 2006, 20.13 million yen in 2007, 18.81 million yen in 2008

WEB site

Recent activities

(1) Environmental information and research:
Collecting and using environmental data on coastal areas, analysing the interplay between land and sea in these areas, and conserving and restoring coastal forests
(2) Agricultural production research:
Researching crops that are suitable for coastal regions and cultivation methods, greening techniques to conserve coastal ecosystems, and agricultural methods using diluted sea water
(3) Shallow sea biological resource research:
Investigating and conserving seaweed resources, and researching the functional properties of seaweeds for use in pharmaceuticals
(4) Environmental sociology research:
Researching conservation-based agricultural and marine production on islands and peninsulas in Japan and other Asian countries, developing and conserving agricultural and marine production on the Genkai Sea coast, agricultural partnerships, and sustainable development for coastal farming and fishing villages.