The Mitsui & Co. Environment Fund
Introduction to Grant Projects
INDEX="446" NAME="Activities to strengthen and disseminate reusable tableware and its network" TYPE="活動助成," YEAR="2008年度," AREA="日本全国," KIND="公益法人," ORG="Global Environmental Forum"
Global Environmental Forum
Activities to strengthen and disseminate reusable tableware and its network
Activity grant
Project Description

It is the norm to use throwaway containers at event sites, and after the event, a mountain of rubbish is left behind. At the Ministry of Environment's "2002 NPO/NGO Business proposal policy forum" this organization's "use of the reusable cup towards the creation of a recycling-orientated society" policy was adopted due to being the best recommendation. Since then, the introduction of re-usable tableware has advanced, and our organization's network office organizations are working on dissemination, but there are still many problems accumulating, such as financial and operational aspects. Therefore, with the aim of dissemination and promotion to further strengthen and expand the reusable tableware network, this project aims to:
(1) Enhance the network homepage
(2) Develop reusable tableware products
(3) Assess the lifecycle of reusable tableware
(4) Manally prepare the tableware with a basis on washing
(5) Will hold a country wide reusable tableware forum.
Grant year

FY2008 Activity Grants
Grant term

3 years
April 2009 - March 2012
Grant amount

15,218,000 yen
Activity region

Throughout Japan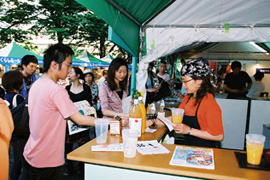 Overview of the Organization

Representative

Shigeru Sumitani, Chief Director

Establishment

1990

Establishment purpose

The Global Environmental Forum (GEF) was established in May 1990 with the purpose of carrying out scientific research and investigations into world environmental problems, and disseminating these results. The name "Global Environmental Forum" comes from the aim to create an environment where nature and humans co-exist. To achieve this, there is the idea to provide a common space, or forum, for a wide range of related individuals such as administrators, businesses, researchers, NPOs, NGOs, media, etc., can freely gather to talk and work towards society.

Main areas of activity

Japan and overseas

Staff

40 full-time staff members

Annual operating budget

539.1 million yen in 2006, 391 million yen in 2007, 498.33 million yen in 2008

WEB site

Recent activities

For research activities, we work across a wide variety of fields such as atmosphere and climate change, sustainable forest management, handling desertification, tidal flat purification by aquatic life, and CSR responsibilities in developed countries. For dissemination activities for the aforementioned fields, the publication of reports, holding of seminars, issuance of "Global Net" monthly publication, implementation of an environment communication grand prize, and network support activities carried out across various sectors with local governments, companies, journalists, etc.