The Mitsui & Co. Environment Fund
Introduction to Grant Projects
INDEX="372" NAME="Save endangered Japanese eight-barbel loaches, a symbol of pure water, and other aquatic organisms!" TYPE="活動助成," YEAR="2009年度," AREA="日本全国,中部," KIND="NPO," ORG="Groundwork Mishima"
Groundwork Mishima
Save endangered Japanese eight-barbel loaches, a symbol of pure water, and other aquatic organisms!
Activity grant
Project Description

The environment around the Genbe River which flows through Mishima, Shizuoka Prefeture, has been in decline since 1955, but recent conservation efforts have restored its abundant waterside areas. However, a fresh concrete spill in 2007 had a disastrous impact, wiping out many of its living creatures. Environmental monitoring was conducted over the three years since the accident focused on Japanese eight-barbel loaches, a fish species symbolic of fresh water streams. It clarified that artificial restoration measures are needed, and currently an ecosystem survey of fish and other aquatic organisms is being carried out in order to formulate an environmental restoration plan, and create the base materials needed to do this, such as a manual for citizen-led maintenance and management. This project will also involve assessing the impact of pilot restoration efforts, issuing a guide to rare species, establishing an aquarium, cultivating 'Genbe River Eco-Rangers' to manage and maintain habitats, and other initiatives.
Fields

Preservation of biodiversity and ecosystem
Grant year

FY2009 Activity Grants
Grant term

2 years
April 2010 - March 2012
Grant amount

6,720,000 yen
Activity region

Mishima, Shizuoka Prefecture, Japan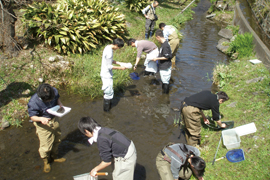 Overview of the Organization

Representative

Minoru Oaki, Director

Establishment

1992

Establishment purpose

Groundwork Mishima is engaged in efforts to conserve local environments in partnership with residents, NPOs, companies, and local government, with the aim of restoring the riverside areas that make up the landscape of 'Mishima - city of rivers', and building sustainable communities.

Main area of activity

Mishima and surrounding areas, Shizuoka Prefecture, Japan

Staff

11 full-time staff members, 2 part-time staff members, 109 individual members, 20 member organizations

Annual operating budget

41.01 million yen in 2007, 26.32 million yen in 2008, 38.13 million yen in 2009

WEB site

Recent activities

Groundworks Mishima has implemented practical conservation initiatives in 50 locations within the city, including restoring the Genbe River area, which had become a dumping ground; restoring populations of ranunculus nipponicus, an aquatic flower which had disappeared from the city; reviving firefly colonies; restoring wells, sacred waters, and spring-fed pools; maintaining local green spaces; environmental education initiatives including conducting nature tours and establishing school biotopes; environmental community and business initiatives; and lively events in the town center. These initiatives also serve as proof of the increased benefits that come from partnerships.