The Mitsui & Co. Environment Fund
Introduction to Grant Projects
INDEX="404" NAME="Animal Direct Position System (ADPS) Project 2010" TYPE="活動助成," YEAR="2009年度," AREA="日本全国,北海道," KIND="NPO," ORG="Shiretoko Higuma Information Centre"
Shiretoko Higuma Information Centre
Animal Direct Position System (ADPS) Project 2010
Activity grant
Project Description

In areas other than the Shiretoko Peninsula, there are no examples of follow up surveys being carried out, despite accidents related to brown bears and the changing environment surrounding brown bears – its behavior is yet to be understood. This organization utilizes the cooperation of universities and companies to gather information from surveys and understand the movements of brown bears in order to communicate this information and prevent further accidents and injuries.
(1) Establish a cage for capturing brown bears in the active areas to capture 10 bears
(2) Place a GPS transmitter collar to capture, release and activate tracking
Fields

Preservation of biodiversity and ecosystem
Grant year

FY2009 Activity Grants
Grant term

2 years
April 2010 - March 2012
Grant amount

6,330,000 yen
Activity region

Nemuro area, Hokkaido, Japan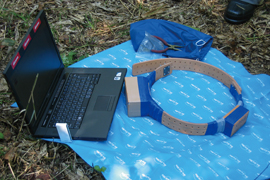 Overview of the Organization

Representative

Yasushi Fujimoto, President

Establishment

2006

Establishment purpose

Our main objective is to observe the ecology of the brown bear inhabiting the Nemuro area and understand its movements more accurately. Our centre will provide this information to nearby towns, villages and any relevant organizations. In addition, we also aim to collect a variety of data on wild animals such as the Yezo sika deer.

Main areas of activity

Nemuro area, Hokkaido

Staff

1 full-time staff member, 15 full members

Annual operating budget

340,000 yen in 2007, 480,000 yen in 2008, 2 million yen in 2009

WEB site

Key activities

After capturing the brown bear, injecting it with an anesthetic, a GPS transmitting collar will be placed to track the brown bears movements. In the first year the aim is to place collars on 10 bears.