The Mitsui & Co. Environment Fund
Introduction to Grant Projects
INDEX="378" NAME="The Herasou Shopping Project" TYPE="活動助成," YEAR="2009年度," AREA="日本全国,近畿," KIND="NPO," ORG="Gomi-Japan"
Gomi-Japan
The Herasou Shopping Project
Activity grant
Project Description

The amount of recycling being carried out in Japan has increased year by year over the last decade, but the amount of waste being produced remains unchanged. About 60% of the waste produced by the average household is made up of containers and packaging, and reducing this has become an urgent issue. A survey conducted by Gomi-Japan in 2005 found that consumers would select products with simpler packaging if they were provided with adequate information and public incentives, and these results have been backed up by a social experiment carried out in Kobe's Higashinada Ward. This project aims to make reducing packaging part of the daily work of retailers. Specifically this will involve encouraging them to make a list of products that have relatively little packaging and post it at the front of the store, select specific products and recommend them to consumers, and assign a member of staff to become a specialist in packaging (packaging meister) and cultivate their expertise. In order to raise awareness further, it will also hold events for local residents, retailers, manufacturers, students, and others.
Grant year

FY2009 Activity Grants
Grant term

2 years
October 2009 - September 2011
Grant amount

5,200,000 yen
Activity region

Kita, Nada, and Higashinada Wards, Kobe, Hyogo Prefecture, Japan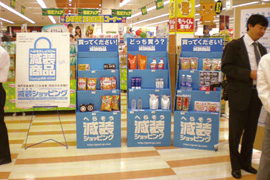 Overview of the Organization

Representative

Masanobu Ishikawa, Representative Director (professor at the Kobe University Graduate School of Economics)

Establishment

2006

Establishment purpose

The decision to establish Gomi-Japan as an NPO was made by a group of volunteers in October 2005 with the aim of testing the theory that 'when made aware of waste problems and provided with incentives, consumers will change their consumption habits and choose items with less packaging' as posited in the report from a Gomi Zero Partnership Conference in 2003 on the theme of creating systems for promoting simpler packaging. Masanobu Ishikawa, a professor from the Kobe University Graduate School of Economics who has a long track record of environment-related research, was selected as a representative and the group was launched with both regular citizens and Kobe University students as members.

Main area of activity

Japan

Staff

1 full-time staff member, 25 part-time staff members, 12 full members

Annual operating budget

10.22 million yen in 2006, 14.38 million yen in 2007, 2008 budget to be announced at the end of September

WEB site

Recent activities

Gomi-Japan is an NPO that aims to work effortlessly with partners from industry, academia, government, and the private sector to create a less wasteful society, and activities are carried out by both ordinary citizens and students and faculty from Kobe University. It is engaged in the planning and development of mechanisms that reduce waste creation across society. It collaborates with consumers, businesses, academic institutions and government to promote simpler packaging, develop new channels for reusing materials, and conduct social experiments related to the manufacture and sale of products that produce less waste. It will use the knowledge gained from these activities to create social mechanisms for solving waste issues on a fundamental level, and contribute to the creation of a city in harmony with the natural environment.