The Mitsui & Co. Environment Fund
Introduction to Grant Projects
INDEX="539" NAME="Restoration of the natural environments of ravine waters inhabited by shoals of rare Japanese Kirikuchi char" TYPE="活動助成," YEAR="2007年度," AREA="日本全国,近畿," KIND="NPO," ORG="Wetlands International Japan"
Wetlands International Japan
Restoration of the natural environments of ravine waters inhabited by shoals of rare Japanese Kirikuchi char
Activity grant
Project Description

The Kirikuchi char is a rare freshwater fish with populations occurring in only two water systems of Totsukawa, Nara Prefecture. Hillside collapse from forestry erosion is causing the disappearance of river environments such as deep pools and rapids, where this fish occurs. Man-made pools were successfully created by a traditional engineering method using forest thinnings under the Mitsui & Co. Environment Fund. In light of this achievement, this initiative will undertake the same engineering work at the other location at Tenkawa in Nara Prefecture where the Kirikuchi char occurs, which has seen considerable degradation of its water environments. It will also implement assessment and verification of the existing man-made pools.
Fields

Preservation of surface soil and forests

Preservation of biodiversity and ecosystem
Grant year

FY2007 Activity Grants
Grant term

2 years
July 2007 - June 2009
Grant amount

2,880,000 yen
Activity region

Water systems of the Kumano River, Yoshino District, Nara Prefecture, Japan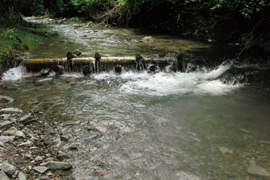 Overview of the Organization

Representative

Wetlands International Japan
Former President Tatsuichi Tsujii

Established

1977

Establishment purpose

Established as the Japanese Committee of the International Wetland Research Board (IWRB) in 1977, With the aim of maintenance and restoration of the "wetlands" vital for inland water environments and biodiversity, under parentage of the Ramsar Convention. Subsequently, changed its name to Wetlands International Japan (WIJ), in 1995, to accompany the reorganization of the IWRB into Wetlands International. Registered as NPO Wetlands International Japan in 2004.

Main areas of activity

Asia region and Oceania centered on Japan

Staff

5 full-time staff members, 1 part-time staff member, 15 full members

Annual operating budget

101.38 million yen in 2005, 104.85 million yen in 2006

Recent activities

Aims to conserve the regional environment, and implements support, dissemination and awareness-raising activities through surveys and research, projects for information provision, and technical provision from Chairman Tatsuichi Tsujii. Achieves this through dissemination and awareness-raising for promotion of conservation for important wetlands both within and outside Japan as well as biodiversity in those wetlands. Above activities are deployed in recognition of wetlands as an indispensable supply platform for the water resources used in human lifestyles.