The Mitsui & Co. Environment Fund
Introduction to Grant Projects
INDEX="558" NAME="Conservation of the natural environment and loggerhead turtles of Omotehama coastline" TYPE="活動助成," YEAR="2006年度," AREA="日本全国,中部," KIND="NPO," ORG="Omotehama Network"
Omotehama Network
Conservation of the natural environment and loggerhead turtles of Omotehama coastline
Activity grant
Project Description

Conservation activities for the endangered loggerhead turtle in Toyohashi City, Aichi Prefecture/Omotehama coastline. This beach is the foremost spawning grounds for loggerhead turtles in Japan. However, in recent years there has been a drastic reduction in the sands, causing protrusions of wave-damping blocks and obstructing the passage of loggerheads. With the further influence of typhoons, this is reducing the egg production and hatching rates of loggerheads. In 2005, local authorities partially removed the wave-damping blocks on an experimental basis but did not devise fundamental countermeasures. This activity involves collecting data on the arrival on land, spawning and incubation of loggerheads, and safely transporting hatching areas for eggs which are in danger of being washed away to improve the hatching rate. It has an additional aim to register this coastline to the Ramsar Convention within two years.
Fields

Climate change

Preservation of surface soil and forests

Preservation of biodiversity and ecosystem
Grant year

FY2006 Activity Grants
Grant term

3 years
July 2006 - June 2009
Grant amount

5,300,000 yen
Activity region

Toyohashi City, Aichi Prefecture, Japan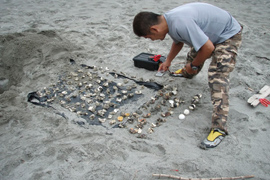 Overview of the Organization

Representative

Yuji Tanaka, Director

Established

2005

Establishment Purpose

The Sea of Enshu coastline is a spawning ground for the endangered loggerhead turtle. It is also one of the foremost agricultural belts in Japan, lined with sea cliffs and gently sloping sand dunes making it an unusual coastline for Japan. However, this rich in nature coastline is continuing to be lost due to changes to its environment. This organization was established to resolve these challenges, with loggerheads positioned as an environmental indicator to conserve biodiversity.

Main areas of activity

Toyohashi City, Aichi Prefecture

Staff

3 part-time staff members, 10 full members

Annual operating budget

1.39 million yen in 2005, 3.05 million yen in 2006, 2.44 million yen in 2007

Recent activities

(1) Loggerhead turtle surveys: Survey status of arrival on land, spawning, hatching. Also, record turtle tracks and surrounding environment to conserve ecosystem.
(2) Sands regeneration project: Littoral replenishment by creating barriers, and harnessing strong winds during winter, to build sands on beach. An initiative to encourage citizens to create a beach for loggerhead turtles to come to spawn.
(3) Omotehama excursions: Study tour to see the status of nature and the coastline and learn about challenges while walking the beach under the guidance of experts on coastlines, etc. This organization conducts the guiding, beach management and leads participant discussions with experts, and the coastline is presented as a regional asset for not only its history and culture, but for industry and livelihoods.
(4) Omotehama symposium: Conduct lecture themed on an annual activities report and the Omotehama coastline.