The Mitsui & Co. Environment Fund
Introduction to Grant Projects
INDEX="571" NAME="Conservation and reforestation of the Okutama forests that serve as water catchment forests in Tokyo" TYPE="活動助成," YEAR="2006年度," AREA="日本全国,関東," KIND="その他," ORG="Mitsui Volunteer Network Center"
Mitsui Volunteer Network Center
Conservation and reforestation of the Okutama forests that serve as water catchment forests in Tokyo
Activity grant
Project Description

This initiative aims to restore the forests of the Okutama district, a water catchment forest in Tokyo, that was destroyed by the over-grazing of deer, abnormal weather, and the abandonment of the forestry industry. Multiple organizations including local NPOs, government agencies, local residents, and elementary school children have been working together on the "Tama Green Restoration Project", which this organization has taken a part in planning, and which is planned to be carried out by taking seeds from wild Mizunara and Japanese Beech Trees, growing them, and re-planting them.
Fields

Preservation of surface soil and forests

Preservation of biodiversity and ecosystem
Grant year

FY2006 Activity Grants
Grant term

3 years
July 2006 - June 2009
Grant amount

6,100,000 yen
Activity region

Okutama District, Tokyo and its outskirts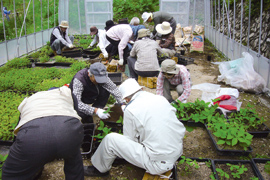 Overview of the Organization

Representative

Ken Taki, Chairperson

Establishment

1996

Establishment purpose

With the cooperation of each company within the Mitsui Group, this organization introduces, mediates between, and represents volunteer programs to senior members of staff across all companies and help to give them a wholesome life full of purpose through uniquely planned, drafted, and impplemented programs.

Main areas of activity

Tokyo, Kanagawa Prefecture, Chiba Prefecture, Saitama Prefecture, Osaka, Hyogo Prefecture, Hiroshima Prefecture, etc.

Staff

1 full-time staff member, 12 part-time staff members, 950 full members

Annual operating budget

36.52 million yen in 2005, 41.04 million yen in 2006, 40.33 million yen in 2007

WEB site

Recent activities

(1) International exchange: interaction with university exchange students in Japan and helping them to create documents
(2) Environmental conservation: Cleaning up of flood plains and coasts, preservation of water source protecting forests, etc.
(3) Health & welfare: Helping outpatients at different hospitals as well as book management, grass cutting, cleaning, and charity concert organization at different medical institutions, etc.
(4) Cultural activities and education: Cleaning and reception work at cultural institutions, aid for education in remote countries, organization of sign language classes and bamboo copter classes, etc.