The Mitsui & Co. Environment Fund
Introduction to Grant Projects
INDEX="466" NAME="Environmental drama project development for the Kinki region" TYPE="活動助成," YEAR="2008年度," AREA="日本全国,近畿," KIND="NPO," ORG="Fringe Theatre Project"
Fringe Theatre Project
Environmental drama project development for the Kinki region
Activity grant
Project Description

This activity is aimed at raising awareness of the environment through the holding of discussions with professional theatre groups and the creation of enlightenment plays about environmental problems. Through performing the environmental harm inflicted to animals, the destruction of the environment can be experienced. Performances will be held in schools and public halls in Kyoto, Osaka, Saga, and Wakayama, and post-performance symposium will be held to discuss the activities with the educational representatives and parents. In addition to the above "event type planning", we will also develop "dissemination type planning" to incorporate the activities into school classrooms to lighten the load on site.
Grant year

FY2008 Activity Grants
Grant term

1 year
October 2008 - September 2009
Grant amount

3,150,000 yen
Activity region

Kyoto, Osaka, Wakayama, Saga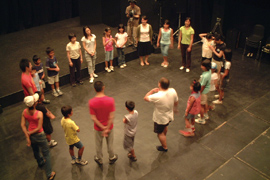 Overview of the Organization

Representative

Hoshiko Furukawa, Chief Director

Establishment

1999

Establishment purpose

This organization was established to disseminate and promote performing arts called fringe theatre, where there are 300 seats or less. We aim to create a better civil society by returning the skills and know-how from the performing arts world to society, in addition to supporting each groups public performance activities.

Main areas of activity

Throughout Japan, with a focus on Kansai

Staff

1 full-time member, 10 full members

Annual operating budget

43,000 yen in 2005, 4.8 million yen in 2006, 9.4 million yen in 2007

WEB site

Recent activities

Since its founding, this organization has focused on the support of "production" which is indispensable to performing arts activities. Specifically, things such as public relations reception on the day. In addition, in recent years, the use of the theatre to learn about environment, disaster prevention, and crime "learning at the theatre!" is expanding. Regardless of residential area, is open to all children who would like to participate, and "learning at the theatre!" activities are disseminated to school and easy to implement, and programmes are developed based on their needs.