The Mitsui & Co. Environment Fund
Introduction to Grant Projects
INDEX="474" NAME="Footpaths for realizing a sustainable society" TYPE="活動助成," YEAR="2008年度," AREA="日本全国,北海道,東北,関東," KIND="NPO," ORG="Midori no Yubi"
Midori no Yubi
Footpaths for realizing a sustainable society
Activity grant
Project Description

Originating in the UK, the practice of providing comfortable footpaths for hiking has spread to Japan in recent years, and helps conserve forest and woodland and build a sustainable society. This project aims to bring urban visitors to remote areas by promoting footpaths in order to support both an environment offering habitats to a diverse range of life and local economies. Specifically, this involves (1) collaborating with NPOs and local governments responsible for footpaths across Japan and establishing the Japan Footpaths Association to make footpaths more widely known, and (2) holding events such as agriculture lessons for residents of Onojimachi in the Tama Hills.
Fields

Marine resources/food

Preservation of surface soil and forests

Preservation of biodiversity and ecosystem
Grant year

FY2008 Activity Grants
Grant term

2 years
October 2008 - September 2010
Grant amount

2,223,363 yen
Activity region

Areas throughout Japan, including Onoji, Machida, Tokyo; Katsunuma, Koshu, Yamanashi Prefecture; Nagai, Yamagata Prefecture; and Kuromatsunai, Hokkaido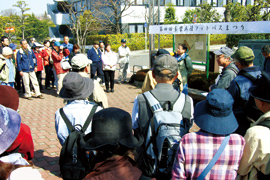 Overview of the Organization

Representative

Shinji Isoya, Director (and Professor at Tokyo University of Agriculture)

Establishment

2001

Establishment purpose

The concept of maintaining footpaths as 'comfortable routes for taking a walk' originates in the UK and has been shown to have extremely positive effects, including environmental conservation, community building, and the rejuvenation of local agriculture and economies. The idea is increasingly gaining ground in Japan as a grassroots movement and is gaining recognition for the positive impact it has on marginal areas, contributing to communities that were previously considered not to have any resources. The organization carries out footpath-related activity with the aim of building a foundation for a sustainable society and leaving a blossoming and beautiful Japan for future generations.

Main area of activity

Tama Hills, Onojimachi, Tokyo, Japan

Staff

10 full-time staff members, 30 part-time staff members, 144 full members

Annual operating budget

2.23 million yen in 2005, 1.72 million yen in 2006, 1.81 million yen in 2007

WEB site

Recent activity

(1) Footpath walks: on the fourth Sunday of every month. Tama Hills Footpath Festival held once or twice a year.
(2) Culture walks: once or twice a month, a walk led by Midori no Yubi's expert guides.
(3) Nature observation tours: a guided walk introducing the important ecosystems of the Tama Hills region on the third Sunday of every month.
(4) Footpath maps: Footpath Map 1 is an enduring bestseller. Footpath Map 2 will be published this year.
(5) Greenery and forest management: the second (greenery) and third (forest) Saturday of every month, commissioned by Machida city.
(6) Environmental education materials: produce texts on the environment in the Tama Hills region aimed at elementary school students and distribute them at elementary schools in Machida.
(7) Agriculture lessons: providing professional instruction from the farmers who shape the Onojimachi landscape.
(8) Funding activities: money raised by selling maps is used to fund the organization's operating expenses and contribute to local government conservation funds.
(9) Japan Footpath Association: working with Machida city to make preparations for an association linking footpaths all over the country.