The Mitsui & Co. Environment Fund
Introduction to Grant Projects
INDEX="553" NAME="Creating an instructor training program to encourage forest-building led by a diverse range of people" TYPE="活動助成," YEAR="2007年度," AREA="日本全国," KIND="NPO," ORG="Morizukuri Forum"
Morizukuri Forum
Creating an instructor training program to encourage forest-building led by a diverse range of people
Activity grant
Project Description

Conserving the manmade forests that occupy 40% of Japan's landmass is crucial for maintaining forest biodiveristy and water source functions. In order to get urban residents involved in forest support activities, there is an urgent need to train people in the basic skills of forest maintenance and secure a group of instructors who have the necessary skills, capabilities and judgement. This project will bring together a committee of experienced instructors to deliberate on course content and instruction methods for this training, and create an instructor training program based on repeated practical training.
Fields

Preservation of surface soil and forests

Preservation of biodiversity and ecosystem
Grant year

FY2007 Activity Grants
Grant term

3 years
July 2007 - June 2010
Grant amount

5,760,000 yen
Activity region

Japan (primarily Tokyo, Iwate, Gunma, Shizuoka, Mie, Osaka, Hiroshima, Ehime, and Fukuoka)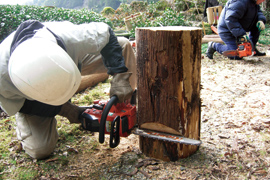 Overview of the Organization

Representative

Takashi Uchiyama, Representative Director

Establishment

1995

Establishment purpose

We protect and nurture the planet's irreplaceable forests, build networks between citizen organizations, provide the foundations for an environment where this kind of activity can be carried out smoothly, and work with local residents, landowners, governments, companies, and others to provide opportunities for a diverse range of people to participate in forest building, contributing to the realization of a society in which people and forests can coexist and benefitting society as a whole.

Main area of activity

Japan (primarily Tokyo and Kanagawa)

Staff

5 full-time staff members, 4 part-time staff members, 263 full members

Annual operating budget

54.33 million yen in 2005, 66.12 million yen in 2006, 68.01 million yen in 2007

WEB site

Recent activities

(1) Awareness-raising: holding forest building experience events with a diverse range of people to create new connections between humans and forests (eg. Forest 21 - Sagami's Forests, the Takao no Mori Project)
(2) Cultivating human resources: providing forestry volunteers with training in safe logging, creating Forestry Working Guidelines that detail how to create forest management plans and conducting practical training related to this. We are aiming to create a comprehensive forest model at Kogesawa no Mori, a forest near a large city where trainees can perform sustainable planning and management activities. We also provide the foundation for performing these activities smoothly (Green Volunteer Insurance, exchanging information with collaborating organizations).
(3) Providing policy recommendations: published three editions of Living on a forest archipelago, a policy manual. Currently considering recommendations on 'the seperation of forest owners and management'.