The Mitsui & Co. Environment Fund
Introduction to Grant Projects
INDEX="395" NAME="Creating environment theatre' - Kinki development project" TYPE="活動助成," YEAR="2009年度," AREA="日本全国,近畿," KIND="NPO," ORG="Fringe Theater Project"
Fringe Theater Project
Creating environment theatre' - Kinki development project
Activity grant
Project Description

The level of awareness regarding environmental problems is low, and there is an urgent need to find effective ways to appeal to those with little interest. The Fringe Theater Project believes that 'communication teaching', which utilizes the social and educative effects of theater, is an effective method of environmental education. This project has children and professional actors work together to create and perform a show to raise awareness of environmental issues. Specifically, this will involve holding workshops for children and performers at locations in the Kinki region, such as Kyoto and Nara, in which they will discuss environmental problems in order to develop a script. This script will become the basis from which an awareness-raising show will be created, which will then be performed around the region. Symposiums will be held following performances to encourage open debate on the issues between local parents, educators, politicians, and other parties. A model project is already being considered by Kyoto City Council and the Kyoto Board of Education, and the project intends to create more case studies demonstrating its tangible successes.
Fields

Climate change

Energy problem

Preservation of biodiversity and ecosystem
Grant year

FY2009 Activity Grants
Grant term

1 year
October 2009 - September 2010
Grant amount

3,600,000 yen
Activity region

Kansai region (Kyoto, Osaka, Nara, Shiga, Wakayama, etc.), Japan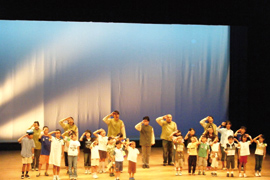 Overview of the Organization

Representative

Akiko Furukawa, Director

Establishment

1999

Establishment purpose

Modern Japanese society includes people with a diverse range of values, and theaters need to exert effort more than ever before to capture the attention of people of different age ranges from different regions. Fringe Theatre is a fully independent genre of theater and it is not an exaggeration to say it provides an important foundation for the theater scene as a whole. However, performances are small-scale, making it unsuitable for profiteering, and it is being cast aside by economic growth. The Fringe Theater Project was established so that the performers themselves can innovate and develop fringe theater.

Main areas of activity

Kyoto Prefecture

Staff

1 full-time staff member, 2 part-time staff members, 11 full members

Annual operating budget

4.88 million yen in 2006, 9.40 million yen in 2007, 18.73 million yen in 2008

WEB site

Recent activity

Promoting fringe theater (primarily performances at venues with less than 300 seats), supporting fringe theater performers and creators, and engaging in activities to improve the environment in the Kansai region. Holding outreach initiatives involving communication education workshops for schools and local communities.