The Mitsui & Co. Environment Fund
Introduction to Grant Projects
INDEX="246" NAME="Research and planting activities to restore coastal forests" TYPE="活動助成," YEAR="2011年度," AREA="日本全国,東北," KIND="NPO," ORG="Sendai Shinrinkyousei-kai"
Sendai Shinrinkyousei-kai
Research and planting activities to restore coastal forests
Activity grant
Project Description

Japanese black pine forests and other coastal forests that were completely devastated by the Great East Japan Earthquake play a big role in protecting the lives and industries, including agriculture, of people in coastal areas, and restoring these forests quickly is a key issue for rejuvenating the region. This project involves a full cycle of regenerative activities, including researching the vegetation that grew in Miyagi Prefecture's devastated forests, identifying broad-leaved trees and other plant species that are resistant to damage from salt water, and cultivating seedlings for plantation in three years time. It will also select three damaged forest sites within Miyagi Prefecture in which to conduct these activities and will assess the extent of the damage and planting conditions at these locations. It will then use the results of this research to plant mixed forests of black pine and broad-leaved trees, selecting species that grow quickly and are resistant to salt water damage. Seeds and seedlings will be collected from surrounding areas and cultivated in dedicated nurseries. After three years it will collaborate with local residents and other organizations to plant these mixed-tree forests at the coastal sites.
Fields

Preservation of surface soil and forests

Preservation of biodiversity and ecosystem
Grant year

FY2011 Activity Grants
Grant term

3 years and 1 month
September 2011 - September 2014
Grant amount

2,740,000 yen
Activity region

Miyagi Prefecture, Japan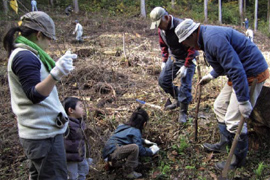 Overview of the Organization

Representative

Tsutomu Hanzawa, Director

Establishment

2001

Establishment purpose

The group was established in 2001 with the aim of protecting Japanese forests and cultivating healthy woodland. It was made an NPO in 2006. It works to protect Japanese forests by sharing information on the current state of forests and how to acheive an ideal state through tree-felling, forest management, and planting activities, and how the proper use of these forests leads to the preservation of Japanese forest and tree culture.

Main area of activity

Japan's Tohoku region, especially Miyagi Prefecture

Staff

5 part-time staff members, 110 full members

Annual operating budget

2.80 million yen in 2008, 2.51 million yen in 2009, 2.86 million yen in 2010

WEB site

Collaborating organizations

Miyagi Prefecture Forest Instructors Association, Sendai 'City of Trees' National Trust

Recent activities

(1) Holding study groups on living with forests, learning about the actual conditions of forests and the significance of using wood produced in Japan. A home-building consultation corner has also been set up to offer advice and suggestions about building houses using Japanese timber and help with construction-related disputes.
(2) Providing forest environmental education for children and students. Communicating the situation of and role played by forests through participation in forest maintenance work.
(3) Holding forums. Holding forums to share information on subjects such as using forest resources and the diverse functions of forests with the wider community in order to preserve tree and forest culture.