The Mitsui & Co. Environment Fund
Introduction to Grant Projects
INDEX="489" NAME="Creating a network and spaces for conducting environmental training and nature experiences on Mikurajima Island in the Izu archipelago" TYPE="活動助成," YEAR="2007年度," AREA="日本全国,関東," KIND="NPO," ORG="NPO Bridge"
NPO Bridge
Creating a network and spaces for conducting environmental training and nature experiences on Mikurajima Island in the Izu archipelago
Activity grant
Project Description

This project is looking into using traditional old houses on Mikurajima Island as bases from which to conduct nature experiences and environmental training. Specifically, this involves bringing in experts to inspect the island environment, repairing and maintaining facilities in which to conduct environmental training, training instructors, carrying out workshops and monitoring programs with local contacts, and devising and trialling ways of making the program sustainable.
Fields

Preservation of biodiversity and ecosystem
Grant year

FY2007 Activity Grants
Grant term

3 years
July 2007 - June 2010
Grant amount

7,025,000 yen
Activity region

Mikurajima Island, Izu archipelago, Tokyo, Japan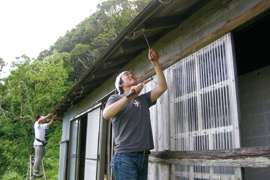 Overview of the Organization

Representative

Hisae Ito, Representative Director

Establishment

2002

Establishment purpose

NPO Bridge was established with the aim of carrying out environmental education initiatives (training, information dissemination, network-building, investigative research and recommendations, etc.) aimed at the general public on the theme of marine life, including dolphins and whales, to foster an interest and admiration for the natural environment and the creatures within it, thereby cultivating 'ecosystem citizens' who have an outlook that includes sharing the earth with a diverse range of life and will take responsibility for their actions, contributing to the realization of a society in which people, animals, and the environment can coexist.

Main areas of activity

The Tokyo Metropolitan Area and across Japan

Staff

5 part-time staff members, 11 full members

Annual operating budget

4.24 million yen in 2005, 7.8 million yen in 2006, 3.62 million yen in 2007

WEB site

Recent activities

Carrying out environmental education intiatives that connect humans with nature in both cities and in the field, including planning and implementing workshops using whales and dolphins to get children interested in the environment (e.g. holding a series of workshops called 'Getting to know the world of whales and dolphins' at Enoshima Aquarium), seminars for adults (e.g. 'The life of dolphins' with Dr. Kathleen Dudzinski), and overseas study trips (e.g. to the Dolphin Research Center, a marine life conservation and care facility in Florida), and developing and distributing educational materials such as 'Let's make a life-sized dolphin!'. Providing corroborating scientific data for specialists such as environmental education instructors, researchers, and research facilities, and carrying out practical activities focused on experience which promote empathy with living creatures.