The Mitsui & Co. Environment Fund
Introduction to Grant Projects
INDEX="273" NAME="Rebuilding the fishing industry on Oshima Island, Kesennuma, and restoring residents' livelihoods together with the natural environment" TYPE="活動助成," YEAR="2011年度," AREA="日本全国,東北," KIND="NPO," ORG="Tomo-Hama (NPO)"
Tomo-Hama (NPO)
Rebuilding the fishing industry on Oshima Island, Kesennuma, and restoring residents' livelihoods together with the natural environment
Activity grant
Project Description

Assisting the recovery and restoration of the natural and socio-economic environments on Oshima Island in Kesennuma, Miyagi Prefecture, so the residents of can once again support themselves independently. This requires the quick restart of the fish farming industry, so the project aims to establish and improve aquaculture facilities to aid the stable operation of fisheries, and carry out communal, collaborative support activities aiming for the quick recovery of the island's natural environment, such as its sandy beaches, in line with Tomo-Hama's core ideal of creating abundant shorelines. Specifically, this means implementing initiatives that support the restart of fisheries through donations to buy fishing equipment and nets that are considerate to the fishes' natural habitat, supporting the restart of a tourism industry by restoring coastal facilities to their original state, and supporting youth development and the rebuilding of livelihoods and a living environment.
Fields

Marine resources/food

Preservation of biodiversity and ecosystem
Grant year

FY2011 Activity Grants
Grant term

2 years and 6 months
April 2011 - September 2013
Grant amount

21,425,000 yen
Activity region

Tohoku region, Japan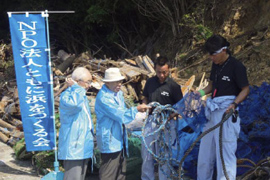 Overview of the Organization

Representative

Takeshi Ishida, President

Establishment

2006

Establishment purpose

The group was established with the strong desire to rebuild public recreation spaces that can co-exist with the port of Yokohama by reclaiming the natural environment little-by-little to create coastal areas abundant in plants and animals where anyone can experience the marine environment. By restoring this natural environment, the group aims to provide the next-generation with a comfortable life enhanced through strong ties to and a healthy respect for nature. It also aims to contributes to society through these activities.

Main areas of activity

Kanagawa Prefecture, Chiba Prefecture, and Oshima Island, Kesennuma, Miyagi Prefecture, Japan

Staff

2 full-time staff members, 1 part-time staff member, 160 full members

Annual operating budget

2.88 million yen in 2008, 2.66 million yen in 2009, 9.12 million yen in 2010

WEB site

Collaborating organization

The Committee for the rejuvination of Oshima Island, Kesennuma

Recent activities

(1) Petitioning for the creation and restoration of coastal areas. Presenting requests to the Port of Yokohama and the Yokohama Environmental Planning Bureau. Presenting and explaining a map of potential restoration sites to the Deputy Mayor.
(2) Awareness-raising activities relating to building shorelines. Holding symposiums, seminars, and photography exhibitions, and participating in various festivals.
(3) Holding regional community educational experiences that bring together members, local residents, and school students.
(4) Activities supporting the recovery and restoration of nature, societies, and regions, that have suffered from natural disasters, and assisting victims.