The Mitsui & Co. Environment Fund
Introduction to Grant Projects
INDEX="241" NAME="Project to draw up and implement a resident-driven Sakaemura and model settlement reconstruction vision and plan" TYPE="活動助成," YEAR="2011年度," AREA="日本全国,中部," KIND="NPO," ORG="Sakaemura Network"
Sakaemura Network
Project to draw up and implement a resident-driven Sakaemura and model settlement reconstruction vision and plan
Activity grant
Project Description

The resident-initiated formulation and implementation of a disaster reconstruction plan in Sakaemura that was damaged by the Northern Nagano earthquakes (EDS: of 2011 and 2014), based on the axis of village reconstruction, amidst the situation where government earthquake responses have gone no further than restoring the situation original conditions. Specifically, (1)draw up a Sakaemura disaster reconstruction vision and a recovery plan by the residents, themselves, and host a recovery vision informal group made up of residents and specialists, and a meeting of specialist support groups. Village reconstruction activities will be supported with two of the villages (Aokura and Otaki), that suffered particularly severe damage, as model settlements. Three activities will be carried out: the restoration and use of traditional Japanese-style houses, the construction of public halls and public housing along with the conservation of the village landscape and field improvement projects, the rejuvenation of exchanges with the cities, and publishing of a PR magazine.
Grant year

FY2011 Activity Grants
Grant term

3 years and 6 months
April 2011 - September 2014
Grant amount

19,684,000 yen
Activity region

Sakaemura, Nagano Prefecture, Japan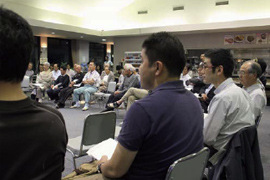 Overview of the Organization

Representative

Toshiyuki Higuchi, Executive Director

Established

2009

Establishment purpose

To develop the natural resources and culture of the village and reveal its traditions and develop new industry, and conduct activities related to city - village exchange and contribute to the town creation and development of Sakaemura for those who live in Sakaemura, as well as those with an interest in the village.

Major areas of activity

Sakaemura, Nagano Prefecture.

Staff numbers

2 fulltime, 1 part time, with 35 regular members.

Annual Business Operations: (Current Revenue)

FY 2008, 0 yen, FY 2009, 539 million yen, FY 2010, 0 yen

Association

Otaki Reconstruction Project Team

Major activities

1, Activities designed to uncover the treasures of Sakaemura, and expand hands on experiences, exchanges and sightseeing
2, Activities designed to promote the production of the agricultural products, processed products and souvenirs of Sakaemura, and develop and expand sales routes for the same.
3, Activities designed to promote and support the settlement of young people.