The Mitsui & Co. Environment Fund
Introduction to Grant Projects
INDEX="226" NAME="Development and support activities for key local people as the torchbearers of the Tohoku Reconstruction" TYPE="活動助成," YEAR="2011年度," AREA="日本全国,東北," KIND="NPO," ORG="Japan Association of Environment and Society for the 21st Century"
Japan Association of Environment and Society for the 21st Century
Development and support activities for key local people as the torchbearers of the Tohoku Reconstruction
Activity grant
Project Description

Although resettlement and reconstruction plan preparations have commenced in the affected areas, in order to promote reconstruction that leads to the future, given the urgent need to develop and support key local people (such as government employees, business people and NPO staff) who will be responsible for reconstruction, these activities aim to strengthen the problems solving and implementation capabilities of those key-people so as to lead to the creation of a sustainable region (materials environment, use of natural energy and car sharing and community busses) while solving a variety of challenges faced by the affected regions. Specifically, practical workshops will be hosted targeting the key-people responsible for reconstruction, and along with existing problem solving, measures (securing funding sources, deregulation etc.) linked to the future will reference the experience of practitioners and specialists for discussions. A network will be create for ex post information exchanges, and a point of contact for consultations, and will support ongoing cooperation. Ultimately, a practical Reconstruction Guide based on workshop Q&A and information will be prepared and distributed to the affected municipalities.
Grant year

FY2011 Activity Grants
Grant term

1 year and 10 months
June 2011 - March 2013
Activity region

Sendai City, Miyagi Prefecture, Ofunato City and Rikuzentakata City in Iwate Prefecture, Japan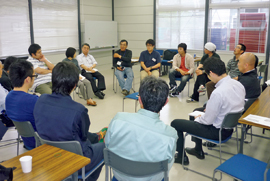 Overview of the Organization

Representative

Saburo Kato and Konoe Fujimura, Co-representatives

Established

1993

Establishment purpose

It is important to establish a sustainable society balanced between the environment, economics and human society, utilizing citizen power, in order to hand on a rich environment and society that are truly healthy to the next generation. Our organization will seek out that balanced new civilization, and will conduct activities, such as public awareness, research studies, and policy proposals, in order to encourage changes in value and social systems, targeting that realization, with the objective of contributing to the maintenance and improvement of environmental quality, not only in Japan, but throughout the world.

Main areas of activity

Japan

Staff

5 full-time staff members, 4 part-time staff members, and 520 regular members

Annual operating budget

2,720 million yen in 2008, 2,950 million yen in 2009, 2,350 million yen in 2010

WEB site

Collaborating organizations

E-Tec, Miyagi Environmental Life Out-Reach Network (MELON), Rematec Holdings, Tohoku Branch

Recent activities

Mainly the following activities in order to appeal to a variety of people targeting the realization of a new environmentally-friendly civilized society.

(1) Research and study activities pertaining to essential challenges, such as the state of value systems, politics, economics and education in an environmentally-friendly civilized society along with policies to achieve them.
(2) The voicing of opinions at public hearings, and policy proposal activities that prepare and propose concrete legal and regulation bills.
(3) Dissemination and educational activities to expand Essential Information including the state of society and its concepts, and the latest environmental and science information.
(4) Exchange activities with members in Japan and colleagues overseas.