The Mitsui & Co. Environment Fund
Introduction to Grant Projects
INDEX="301" NAME="Clearing debris and monitoring the ecological environment in Mone Bay" TYPE="活動助成," YEAR="2011年度," AREA="日本全国,東北," KIND="NPO," ORG="Mori wa Umi no Koibito"
Mori wa Umi no Koibito
Clearing debris and monitoring the ecological environment in Mone Bay
Activity grant
Project Description

Mone Bay in Kesennuma, Miyagi Prefecture, suffered heavy tsunami damage following the Great East Japan Earthquake. In order to revive the bay's oyster beds, there are various problems that must be faced, including uncertainty as to the amount and distribution of debris, uncertainty regarding the impact of debris on water quality and sea floor conditions, and uncertainty regarding changes to living organism and their habitats caused by the tsunami. This project will engage in clearing debris from the sea floor and monitoring the ecological environment with the short-term aim of reviving fishing grounds and the long-term aim of developing Mori wa Umi no Koibito initiatives.
Fields

Marine resources/food

Preservation of surface soil and forests

Preservation of biodiversity and ecosystem
Grant year

FY2011 Activity Grants
Grant term

3 years and 6 months
April 2011 - September 2014
Grant amount

13,492,780 yen
Activity region

Mone Bay, Kesennuma, Miyagi Prefecture, Japan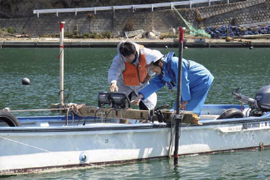 Overview of the Organization

Representative

Shigeatsu Hatakeyama, Director

Establishment

1989

Establishment purpose

Mori wa Umi no Koibito considers forests, rivers, and the sea to be one collective whole, and to ensure that people in the future can enjoy the bounty of the sea, it engages in forest building, environmental education, and conservation activities, and collaborates with groups in Japan and abroad with the aim of contributing to the formation of a plentiful society where people are in harmony with nature.

Main areas of activity

Kesennuma and Tome, Miyagi Prefecture, and Ichinoseki, Iwate Prefecture, Japan

Staff

3 full-time staff members, 8 part-time staff members, 44 full members

Annual operating budget

920,000 yen in 2008, 2.17 million yen in 2009, 3.08 million yen in 2010

WEB site

Recent activities

(1) Forest building
Activities such as tree thinning and weeding with the aim of conserving woodlands full of life.
(2) Environmental education
Conducting hands-on educational field experiences in Kesennuma Bay where participants can learn about the connections between forests, human dwellings, and the sea.
(3) Environmental conservation activities
Monitoring the cycles of nature and gathering data on environmental change from the forests to the sea.