The Mitsui & Co. Environment Fund
Introduction to Grant Projects
INDEX="214" NAME="The sustainable local community model "Visualization" project" TYPE="活動助成," YEAR="2011年度," AREA="日本全国,東北," KIND="NPO," ORG="Iwate Kodomo Kankyou Kenkyuusho"
Iwate Kodomo Kankyou Kenkyuusho
The sustainable local community model "Visualization" project
Activity grant
Project Description

We set up equipment and run hands-on programs in which participants can sense with their five senses the connection between energy and life in the forest and wind. We create hands-on sign groups and spaces where people can see and understand the connections between things and forces here. We are involved with the designing of how to show and tell people about this. We are using images and fantasy to tell people about our model for sustainable local communities. By promoting the creation of a natural energy theme park, we hope that the number of visitors will increase and that use by researchers and groups will grow, and it will become a new place in the Tohoku region where people can learn about the resource-recycling lifestyle.
Fields

Energy problem
Grant year

FY2011 Activity Grants
Grant term

1 year
April 2012 - March 2013
Grant amount

4,608,000 yen
Activity region

Kuzumaki-chou, Iwate-gun, Iwate Prefecture, Japan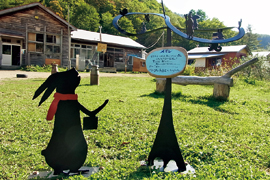 Overview of the Organization

Representative

Nobuo Yoshinari, Director

Establishment

2001

Establishment purpose

To foster the "ability to live to the future" in children, we will create an organization that involves newcomers from the cities as well as children and adults from local communities, and we will position the Morikaze nature school (that was once a local node) as a new meeting place. We will practice and advocate the creation of models for local communities with such themes as "The reuse of natural energy and local resources," "Creating a places for children," and "New agricultural living."

Main regions of project activity

Kuzumaki-chou, Iwate-gun, Iwate Prefecture

Staff

4 full-time staff members, 135 full members

Annual operating budget

15.11 million yen in 2009, 9.92 million yen in 2010, 17.26 million yen in 2011

Main activities

An eco-school that uses the facilities of a former school, in a community of 12 households, at an altitude of 700 m. In collaboration with Kuzumaki-chou, we opened the Iwate Children's Environment Research Laboratory in 2001. With the key words of "Don't waste it" we are using permaculture techniques and are promoting the creation of facilities that can achieve a recycling-oriented way living as a means for natural energy education and ecological life education. We are seeking a new way to connect the past with the future, while keeping in mind the Northern European lifestyle and the lifestyle of the local community.