The Mitsui & Co. Environment Fund
Introduction to Grant Projects
INDEX="166" NAME="Rebuilding communities in disaster areas through mosaic art by people with disabilities" TYPE="活動助成," YEAR="2012年度," AREA="日本全国,東北,関東," KIND="NPO," ORG="Eco Mosaic (NPO)"
Eco Mosaic (NPO)
Rebuilding communities in disaster areas through mosaic art by people with disabilities
Activity grant
Project Description

By launching the creation of mosaic art works by people with disabilities in areas affected by the Great East Japan Earthquake, we aim to provide opportunities to people who attend social welfare facilities to be engaged in meaningful work and support their social independence. In addition, by using these works in the rebuilding of parks and roads in areas affected by the earthquake, we make it possible for people with disabilities to participate in community building and reconstruction. At three social welfare facilities, we have developed guidance programs for mosaic tile work using surplus materials and waste materials, and we also provide materials, lend out tools, provide training for instructors, and hold workshops at work locations. We have a track record of creating catalogs and trial construction once a certain quality level has been achieved for the products. We also conduct PR and sales promotion activities for the projects so that they are used not only in the areas affected by the disaster, but in building roads and parks broadly throughout Japan. In addition, by using rubble such as wood from the disaster area as much as possible for the mosaic materials, we also aim towards reconstruction that effectively uses resources and leads to life as was before the disaster.
Grant year

FY2012 Activity Grants
Grant term

2 years
October 2012 - September 2014
Grant amount

6,347,000 yen
Activity region

Iwaki-shi, Fukushima-ken; Kesennuma-shi, Miyagi-ken; Kitaibaraki-shi, Ibaraki-ken, Japan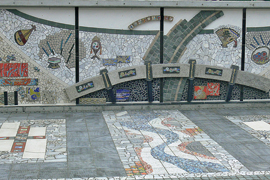 Overview of the Organization
Representative

Takaaki Hashida, Director

Establishment year

1999

Establishment purpose

We propose mosaic plates using surplus materials and waste materials from factories as means for improving sensibilities and capabilities, learning a specialized technical skill, and providing an opportunity for social participation by people with mental disabilities who in the past had often been involved in simple tasks for extremely low wages and the production of products with low levels of competitiveness in the market. Through the spread of such activities, we aim to support the independence of people with disabilities, promote recycling, and contribute to creating communities with abundant art.

Main activity areas

Kashiwa City, Chiba Prefecture, Abiko City, Sendai City, Hitachi City, Ibaraki Prefecture, Iwaki City, Fukushima Prefecture, Kesennuma City, Miyagi Prefecture, Kitaibaraki City, Yamaguchi City, Ueda City, Nagano Prefecture, Chuo-ku, Tokyo, Shizuoka City, etc.

Number of staff members

1 full-time staff member, 5 part-time staff members, 15 full members

Annual operating budget

17.59 million yen in 2009, 7.89 million yen in 2010, 29.58 million yen in 2011

WEB site

Main activities

The organization conducts guidance programs on mosaic products that it has devised and developed, and supplies materials at vocational aid centers and special needs education facilities at eleven locations nationwide that have been certified by our organization. The products are all purchased by facilities, and they are incorporated in the construction of roads, parks, and murals with cooperation of municipalities where there are facilities, companies, etc. We have been responsible for over 100 public and private construction projects from design to construction since establishment. We also hold workshops in which people with mental disabilities, post-retirement seniors, and middle school and high school students work together.