The Mitsui & Co. Environment Fund
Introduction to Grant Projects
INDEX="186" NAME="Great Purple Emperor Butterfly Forest Creation Project to link people, nature, and communities" TYPE="活動助成," YEAR="2012年度," AREA="日本全国,関東," KIND="NPO," ORG="Tsukuba Environment Forum (NPO)"
Tsukuba Environment Forum (NPO)
Great Purple Emperor Butterfly Forest Creation Project to link people, nature, and communities
Activity grant
Project Description

While some successes have been achieved in the restoration of protected forests through volunteers, who rescue great purple emperor butterflies in response to a sense of crisis towards the loss of woodland environments from the development of the Tsukuba Express Railway, a vision has yet to be established for the preservation of large-scale green areas even after development. In this project, we will study the past and present of this woodland environment including green areas, and start activities for sharing a future image of the woodlands with people in local communities. We will work to continually conserve woodlands with great purple emperor butterflies serving as a benchmark for the charm of living together with abundant nature.
Fields

Preservation of surface soil and forests

Preservation of biodiversity and ecosystem
Grant year

FY2012 Activity Grants
Grant term

3 years
October 2012 - September 2015
Grant amount

4,416,000 yen
Activity region

Tsukuba-shi, Ibaraki-ken, Japan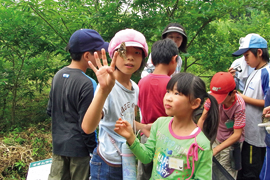 Overview of the Organization

Representative

Hiroshi Taniyama, Managing Director

Establishment year

2001

Establishment purpose

In an effort to communicate the idea of communities with abundant nature to children in the future based on the theme of coexistence between nature and people, the purpose of the project is to promote the gathering, distribution, and sharing of information; conduct studies, research, and conservation in the natural environment surrounding Tsukuba; encourage the understanding of and participation in activities by many people; and implement environmental conservation activities in the local community.

Main activity areas

Tsukuba City and region surrounding Mount Tsukuba in Ibaraki Prefecture

Number of staff members

2 full-time staff members, 4 part-time staff members, 26 full members, 237 other members

Annual operation budget

13.47 million yen in 2009, 12.81 million yen in 2010, 11.14 million yen in 2011

WEB site

Main activities

Conduct activities centered around practice, development, and coordination in woodland fields near Mount Tsukuba and Tsukuba City. Conducts initiatives in the Mount Tsukuba area including instructor development and nature guide activities, the planning and operation of various courses such as the Tsukuba Mountain Base Nature School, the restoration of paddy fields that coexist with wildlife, and water source forest creation (forest improvements and tree planting). In addition, initiatives near Tsukuba Science City include raising great purple emperor butterflies (Japan's national butterfly) rescued from developed areas, environmental education, flatland forest development, and hands-on nature experience activities for children and parents.