The Mitsui & Co. Environment Fund
Introduction to Grant Projects
INDEX="193" NAME="Reconstructing homes and living in harmony with nature on high ground transfer sites in the Shishiori Region of Kesennuma" TYPE="活動助成," YEAR="2012年度," AREA="日本全国,東北," KIND="NPO," ORG="Japan International Volunteer Center (NPO)"
Japan International Volunteer Center (NPO)
Reconstructing homes and living in harmony with nature on high ground transfer sites in the Shishiori Region of Kesennuma
Activity grant
Project Description

Residents of Shishiori Region of Kesennuma that suffered from significant damage from the earthquake have been separated, and their community is on the verge of collapse. While disaster prevention group relocation efforts led by residents are currently underway, residents have not yet been able to develop a concrete image for community building after relocation. This projects aim to rebuild villages that are on the verge of collapse, and at the same time create sustainable local communities that are in harmony with nature as large-scale development is conducted in the region. Specifically, we will create regular opportunities for residents to have discussions with advisors that specialize in community building, and hold study meetings and workshops on community building (lifestyle building). On top of this, advisors will serve as a bridge between residents and the government and consultants, and incorporate the needs of residents in project plans. In addition, efforts will be made to use local natural resources, such as the repurposing of thinned wood for wood construction timber depending on the structure, and to look for ways of community building that take into consideration harmony with nature together with residents.
Grant year

FY2012 Activity Grants
Grant term

1 years and 6 months
April 2012 - September 2013
Grant amount

8,767,000 yen
Activity region

Ooura, Kogoshio, and Kajigaura, Shishiori Region,Kesennuma-shi, Miyagi-ken, Japan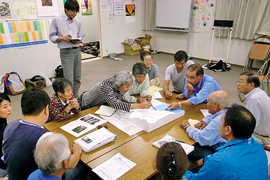 Overview of the Organization

Representative

Hiroshi Taniyama, Managing Director

Establishment year

1980

Establishment purpose

The purpose is to 1) support people working to improve their own difficult situations imposed by society through international cooperative activities in various places around the world, and 2) create new ways of living and human relationships through activities aimed at preservation of the global environment and social education activities in order to create societies in which everyone in the world can coexist together with nature and each other.

Main activity areas

Cambodia, Laos, Thailand, South Africa, Sudan, Afghanistan, Palestine, Iraq, Korea, areas affected by the Great East Japan Earthquake

Number of staff members

94 full-time staff members, 6 part-time staff members, 1,178 full members

Annual operating budget

269.75 million yen in 2009, 248.91 million yen in 2010, 326.32 million yen in 2011

WEB site

Main activities

(1) Support the effective conservation and use of natural resources for sustainable development by people around the world, support activities for the creation of regionally-sufficient and conservation-based societies.
(2) Conduct activities that lead to the protection of human rights and reconciliation in regions where there are conflicts. In addition, contribute to conflict prevention through interchange with local communities.
(3) Provide support when there are disasters, and provide assistance and livelihood reconstruction support for sufferers of wars and disasters.
(4) Conduct research and provide recommendations on structural issues such as the creation of citizens' networks, environmental issues, the North-South divide, and wars.