The Mitsui & Co. Environment Fund
Introduction to Grant Projects
INDEX="178" NAME="Side project for disaster-stricken areas: Objective to create local jobs and establish regional communities" TYPE="活動助成," YEAR="2012年度," AREA="日本全国,東北," KIND="NPO," ORG="Sanga Iwate"
Sanga Iwate
Side project for disaster-stricken areas: Objective to create local jobs and establish regional communities
Activity grant
Project Description

We conduct projects with high public interest, targeting residents from widely affected disaster areas, such as the continued operation of handicraft workshops and side projects in order to support self-reliance of the victims. People from the disaster area were hired for management as well as production and sales of handicrafts at the handicraft workshop. Handicraft activities will contribute to reconstruction of disaster-stricken areas and resettlement. Additionally, by holding a meeting to interact with local residents using the handicraft workshop, our aim is to create a new community and a place where people can get together.
Grant year

FY2012 Activity Grants
Grant term

3 years
April 2013 - March 2016
Grant amount

6,950,000 yen
Activity region

Otsuchi-cho, Kamaishi-city, Kamihei District, Iwate Prefecture, Japan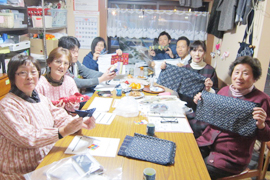 Overview of the Organization

Representative

Ritsuko Yoshida, President

Establishment

2011

Establishment purpose

Sanga Iwate's objective is to improve community welfare and contribute towards improving social welfare by conducting businesswhilst providing support for residents living indepedently in disaster-stricken areas. Sanga means people gathering and connecting. Sanga Iwate was established based on the idea of conducting activities from your heart, focusing on listening, compassion and standing side-by-side with each other as we look to the future.

Main area of activity

Otsuchi-cho, Kamaishi-city, Iwate Prefecture

Staff

2 full-time staff members, 5 part-time members, 14 full members

Recent activities

Due to damage caused by the tsunami, a handicraft workshop for older, out of work mothers living in temporary housing was established. Producing and selling handicrafts has created funding for independent living, providing livelihood support as well as creating opportunities for meeting people. With this side job, life is more stable for participants and we promote the social participation of elderly people through selling products produced by them in temporary housing, as well as conducting activities to provide motivation.