Main Contents
Mitsui & Co., Ltd. ("Mitsui", Head Office: Tokyo, President and CEO: Kenichi Hori) has agreed to make an investment, through its wholly owned subsidiary, MIT Power India, Co., Ltd., in a large-scale renewable energy project (the "Project") that ReNew Power Private Limited ("ReNew", Head Office: Haryana, India, Chairman and CEO: Sumant Sinha) has been developing.
The Project will consist of three newly built wind farms (900MW in total) and one solar plus battery storage farm (400MW plus up to 100 MWh) – 1,300 MW plus up to 100 MWh in total capacity – across three states in India, and provide 400 MW electricity to Solar Energy Corporation of India ("SECI"), an Indian central government-owned entity, which has an AA+ domestic debt rating by ICRA, a subsidiary of Standard & Poor's, based on a 25-year power purchase agreement with SECI. While it is difficult for conventional renewable energy projects to commit stable electricity supply due to the intermittent nature of winds and solar irradiation, this Project commits electricity supply of 400 MW with high capacity factor on a round-the-clock basis from a portfolio consisting of multiple wind and solar plus battery storage farms. This is the first of its kind in India ("round-the-clock scheme"). The total cost of the project will be around US$ 1.35billion. The commercial operations are scheduled to start by August 2023. Mitsui will contribute to the project by using its accumulated knowledge of the electric power business in Japan and other countries to ensure steady progress toward completion and the smooth start-up of commercial operations.
India, the third largest emitter of Greenhouse Gas ("GHG"), declared its commitment to cut its emissions to net zero by 2070 at the 26th Conference of Parties ("COP26") held in Glasgow in November 2021, and announced that India will raise its non-fossil energy capacity to 500 GW by 2030, while meeting 50% of its energy demand through renewables. This round-the-clock scheme Project, enabling electricity supply with 100% renewables, is in line with the Indian Government's policy, and is expected to play an important role in future to replace coal-fired generation currently dominant in India.
One of the priority areas identified by Mitsui in its Medium-term Management Plan 2023 is "Sustainability Management; Evolution of ESG", while the company's vision for 2050 calls for the achievement of net-zero emissions. Furthermore, Mitsui has identified the Energy Solutions domain as a strategic focus, and positions initiatives that contribute to the global fight against climate change as key business areas. Renewables and clean energy in India are promising areas backed by the country's expected continuous growth in population and GDP. Through the Project, Mitsui will address power shortage and decarbonization in India and contribute to the achievement of an eco-friendly society.
Project Overview
1) Project Company
ReNew Surya Roshni Private Limited
2) Shareholding
ReNew (through its wholly owned subsidiary) 51%
Mitsui (through its wholly owned subsidiary) 49%
3) Project location
See below map
4) Installed capacity
1,300 MW (wind 300 MW x 3 sites, solar plus battery storage 400 MW plus up to 100 MWh x 1 site)
5) Project Cost
US$ 1.35billion
6) Scheduled Commercial Operation Date
August 2023
7) Offtaker
Solar Energy Corporation of India (PPA)
Project Location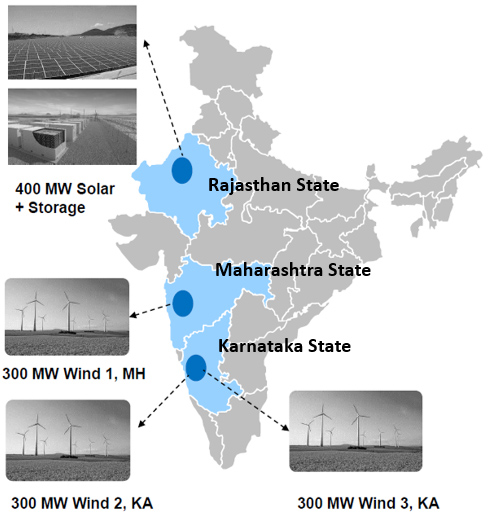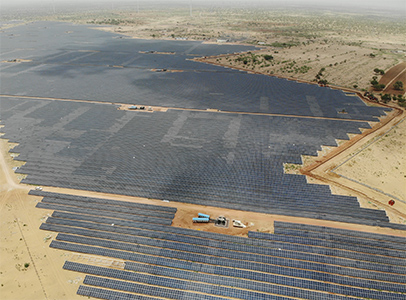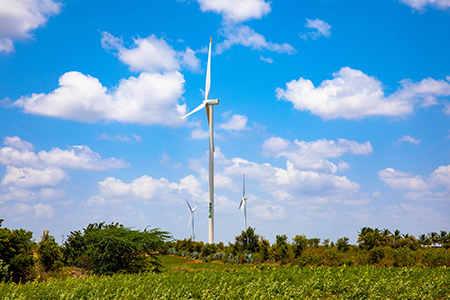 ---
Mitsui's Materiality
"Build brighter futures, everywhere" as our corporate mission, and to gain the trust and expectations of our stakeholders to realize a better tomorrow for earth and for people around the world, we have identified five material issues ("Materiality") for Mitsui's sustainable growth. We anticipate this particular project/ business to contribute especially to the realization of "Secure sustainable supply of essential products" and "Create an eco-friendly society"
Secure sustainable supply of essential products

Enhance quality of life

Create an eco-friendly society

Develop talent leading to value creation

Build an organization with integrity