Main Contents
On December 13, Mitsui & Co., Ltd. ("Mitsui", Head Office: Tokyo, President and CEO: Tatsuo Yasunaga) acquired 34% of the shares in Vientos Los Hercules S.A., a wind power generation business operating in southern Argentina, from Total Eren S.A., a global Independent Power Producer (IPP) headquartered in Paris.
The aim of the project is to build wind power generation facilities with a generation capacity of 97.2 MW in total (consisting of 27 wind turbines, each having a 3.6 MW capacity) on a 350 ha site near the city of Pico Truncado in Santa Cruz Province, located about 1,500 km southwest of Buenos Aires. The electricity will be sold to CAMMESA, the administration company for the wholesale electric power market in Argentina, over a 20-year period. The total cost of the project will be around US$220 million. Commercial operations are scheduled to start in mid-2019. Mitsui will contribute to the project by using its accumulated knowledge of the electric power business in Japan and other countries to ensure steady progress toward completion and the smooth start-up of commercial operations. With the share acquisition, Mitsui also concluded a contract of guarantee against losses arising from political and non-commercial risks with the World Bank Group's Multilateral Investment Guarantee Agency (MIGA). This project represents Mitsui's first electric power project in Argentina.
Under a new energy law passed in 2015, the government of Argentina aims to increase the percentage of energy supplied using renewable resources to 8% by 2018, and 20% by 2025. To achieve these goals, Argentina launched an international auction process known as the "RenovAr Program", through which it has selected 59 solar, wind, biomass, and small-scale hydro power projects, including the Vientos Los Hercules project.
Mitsui, based on its equity interest in power generation businesses, owns 9.1 GW of generation capacity (as of September 30, 2018), of which 16% is generated using renewable resources. It aims to increase this ratio to 30% by 2030. It positioned the machinery and infrastructure area as a core business segment under its Medium-term Management Plan with the aim of building a robust profit base. Through stable, long-term provision of the social infrastructure that is essential for people's daily lives, Mitsui will contribute to the development of nations and the enhancement of people's quality of life.
Project Overview
1) Project company
Vientos Los Hercules S.A.
2) Shareholders
Total Eren: 66%
Mitsui: 34% (through a wholly owned subsidiary)
3) Project location
Near Pico Truncado City, Santa Cruz Province, Argentine Republic
4) Generation capacity
97.2 MW (27 wind turbines, each with a generating capacity of 3.6 MW)
5) Total cost
US$220 million
6) Expected start of operation
Mid-2019
7) Electricity purchaser
CAMMESA (the administration company for the wholesale electric power market in Argentina)
Project location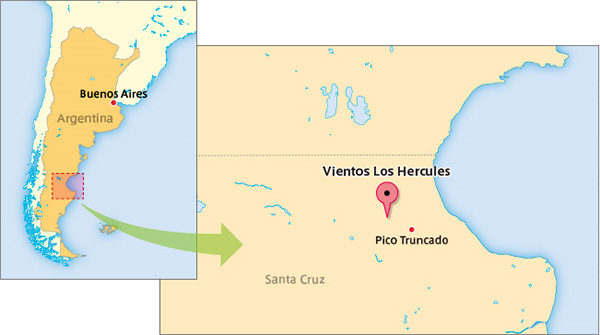 Views of the project site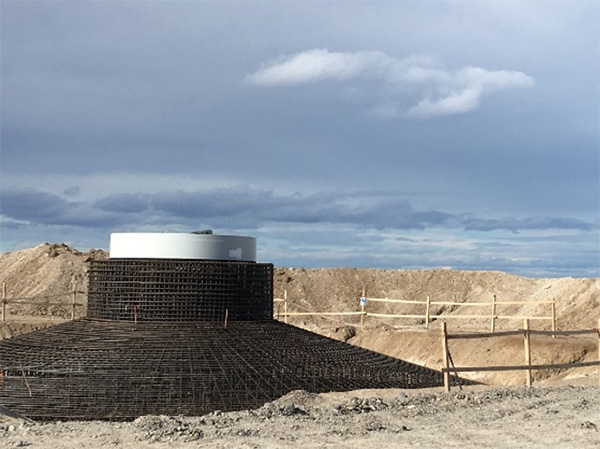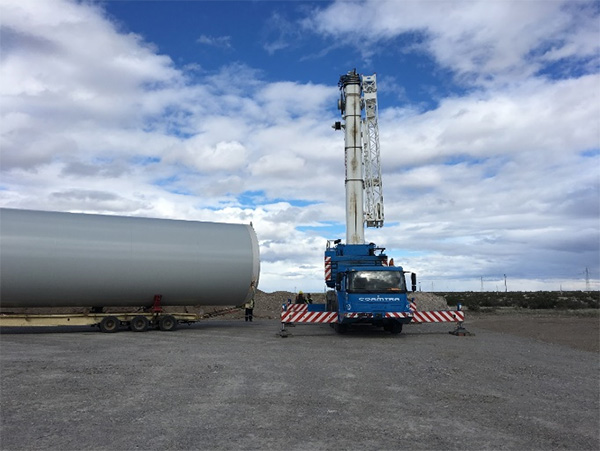 About Total Eren
Founded in 2012 by Pâris Mouratoglou and David Corchia, Total Eren has built up a substantial and diversified portfolio of wind, solar and hydroelectric assets representing an installed gross capacity of more than 1,300 MW in operation or under construction worldwide. Through partnerships with local developers, Total Eren is currently developing numerous energy projects in countries and regions where renewable energy represents an economically viable response to growing energy demand, such as in Asia-Pacific, Africa and Latin America. Its objective is to achieve a global net installed capacity of more than 3 GW by 2022. On 1 December 2017, Total S.A., the major energy company, has acquired an indirect 23% interest in Total Eren. For more information, go to www.total-eren.com