Main Contents
Mitsui & Co., Ltd. ("Mitsui", Head Office: Tokyo, President and CEO: Tatsuo Yasunaga) has entered into an agreement with BW Group ("BW") to form a joint venture ("JV"), and to acquire a 49% stake in the JV to jointly own the Floating Storage and Regasification Unit ("FSRU") BW Integrity. The deal is expected to close as soon as the payment for the acquisition is completed. This deal is the first FSRU project for Mitsui, and the first project for a Japanese company to participate in the LNG receiving infrastructure business in Pakistan.
The JV will lease the FSRU to PGP Consortium Ltd. ("PGPC") based on a long-term FSRU lease agreement (The "Project"), and PGPC will provide LNG regasification services to Pakistan LNG Terminals Ltd. ("PLTL"), a state-owned company. Pakistan began importing LNG in 2015 to cater to growing domestic demand for natural gas, and declining production of indigenous gas. The demand for imported LNG in Pakistan is expected to grow steadily and reach 20 million tons per annum by 2022. As Pakistan's second LNG receiving facility in the country, this project delivers a key energy infrastructure project of high national importance.
BW Group is a major player in the maritime oil and gas industry, with a well-diversified fleet of over 150 vessels which includes LNG and LPG carriers, floating gas infrastructure, product tankers, FPSOs, dry bulkers, chemical tankers, and possesses a long-standing and best-in-class vessel management capabilities. This is BW's second FSRU project, with the first being a sister vessel, BW Singapore, which is currently based in Egypt on a five-year charter.
Mitsui is traditionally involved in various spheres of gas-value-chain business such as exploration, liquefaction of LNG, LNG transportation, LNG receiving terminals, on-shore gas distribution, gas-fired power plants, gas-chemical business, etc., in different parts of the world. Gas-value-chain business is identified as a core business for Mitsui in the new Medium-Term Management Plan "Driving Value Creation" that was announced last May. Mitsui aims to increase its presence in the growing FSRU business which has evolved to be the optimum solution in terms of considerations such as project execution timeline and cost competitiveness for newly emerging LNG markets, by leveraging its wide range of experience and expertise in various business in the gas-value-chain. Also, by entering the FSRU business, Mitsui aims to further expand its presence in the gas-value chain business to respond to the growing demand for gas related infrastructure in the newly emerging LNG markets in many parts of the world.
Project Details
| | |
| --- | --- |
| Joint Venture | BW FSRU II Pte. Ltd. |
| Shareholders | BW 51%, Mitsui 49% |
| FSRU Location | Pakistan, Karachi Port Muhammad Bin Qasim |
| Name of FSRU | BW Integrity |
| Project Cost | Approx. USD 310 million |
| LNG receiving capacity | Approx. 5.6 MMTPA of LNG |
| Commencement of Operation | From end of November to first half of December, 2017 |
| Project Period | 15 years |
Map of the facility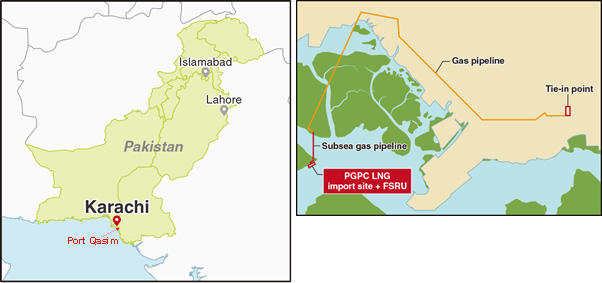 FSRU "BW Integrity" details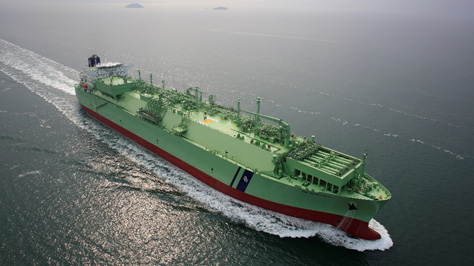 | | |
| --- | --- |
| Name | BW Integrity |
| Length/Width | 292.5mtr/43.4mtr |
| Shipbuilder | Samsung Heavy Industries, Korea |
| LNG storage capacity | 170,582m3 |
| Regasification capacity | 750 mmscf/d |
| Mooring System | Single Jetty mooring |
Profile of BW
| | |
| --- | --- |
| Name | BW Group |
| Head Office | 10 Pasir Panjag Road, Singapore |
| Business details | BW Group is a leading global maritime group involved in shipping, floating gas infrastructure and deepwater oil & gas production, and has been delivering energy and other vital commodities for more than 80 years, with a current fleet of over 150 ships. The group was founded by Sir YK Pao in Hong Kong in 1955 as World-Wide Shipping. In 2003, the group acquired Bergesen, Norway's largest shipping company founded in 1935, and in 2005, the business was re-branded as BW. Today, BW Group operates the world's largest gas shipping fleet (LNG and LPG combined), with a total of 70 large gas vessels, including three FSRUs (floating storage and regasification units). BW's fleet also includes refined oil tankers, chemical tankers and dry bulk carriers. |
| Website | |
Profile of PGPC
| | |
| --- | --- |
| Name | PGP Consortium Limited |
| Head Office | Associated House, Seven Egerton Road, Lahore Cantt Lahore Punjab |
| Established | September, 2015 |
| Business details | Pakistan GasPort Consortium Limited (PGPC) is a wholly owned subsidiary of Pakistan GasPort Limited (PGPL). It provides storage and regas services to Pakistan LNG Terminals Limited (PLTL). |
Notice:
This announcement contains forward-looking statements. These forward-looking statements are based on Mitsui's current assumptions, expectations and beliefs in light of the information currently possessed by it and involve known and unknown risks, uncertainties and other factors. Such risks, uncertainties and other factors may cause Mitsui's actual results, financial position or cash flows to be materially different from any future results, financial position or cash flows expressed or implied by these forward-looking statements. These risks, uncertainties and other factors referred to above include, but are not limited to, those contained in Mitsui's latest Annual Securities Report and Quarterly Securities Report, and Mitsui undertakes no obligation to publicly update or revise any forward-looking statements.
This announcement is published in order to publicly announce specific facts stated above, and does not constitute a solicitation of investments or any similar act inside or outside of Japan, regarding the shares, bonds or other securities issued by us.