Main Contents
Mitsui & Co., Ltd. ("Mitsui", Head Office: Tokyo, President and CEO: Tatsuo Yasunaga), together with Daimler AG ("Daimler"), a global manufacturer of passenger and commercial vehicles, has made an investment in The Mobility House AG ("The Mobility House"). The Mobility House is a leading provider of EV charging solutions and operator of stationary energy storage systems built with EV batteries.
In the automotive industry, as global environmental regulations have been strengthened, automotive manufacturers are making a clear shift towards EVs, which are expected to spread throughout the market in the near future. Meanwhile, the electric power industry, especially in advanced economies, is faced with an increased burden on power grid systems because of the sharp rise of intermittent power sources, such as solar and wind. In order to promote the spread of EVs, there is a need for solutions that stabilize power grid systems, such as automatic adjustment of EV charge timing in accordance with the power supply-demand balance, and introduction of stationary battery storage systems.
In response to these challenges, The Mobility House has been providing leading EV manufacturers including Daimler and their retail and business customers in Europe with a comprehensive smart charging solutions. Moreover, in a joint venture with Daimler, they have built energy storage systems with EV batteries in Germany that have a total output of 30 MW. The joint project provides frequency control services for transmission system operators (TSOs).
In addition to innovative charging and energy storage solutions, The Mobility House portfolio also includes projects in the field of vehicle-to-grid ("V2G") technology. The V2G technology allows integration of EVs into the power grid as an aggregated swarm energy storage. EV fleet owners would then obtain income from the V2G service by being part of the The Mobility House managed EV portfolio. In its Medium-term Management Plan announced in May this year, Mitsui selected "Mobility" as one of the key growth areas to focus on, and it is promoting the expansion of automotive value chains, from automotive materials through to mobility and transportation services.
Through the above participation in The Mobility House, Mitsui will support the growth of The Mobility House. Also, in Europe, where utilization of renewable energy sources and EVs are most accelerated, Mitsui will strive to commercialize advanced business models by leveraging the comprehensive strengths it has accumulated through its automotive, power infrastructure, and energy trading businesses. Mitsui will then expand this business models into other regions, such as the United States and Japan.
This investment is the 14th project under Mitsui's Business Innovation Project framework, which was established in October 2012. The Business Innovation Project framework is designed to support new business endeavors that fit with Mitsui's new regional strategies and new business focus areas, and that have the potential to generate excellent investor returns over the long term, without being subject to some of the strict criteria for investment and certain exit benchmarks stipulated in Mitsui's regulations.
Profile of The Mobility House
| | |
| --- | --- |
| Company Name | The Mobility House AG |
| Location | Munich, Bavaria, Germany |
| Established | 2009 |
| Representative | Thomas Raffeiner |
| Number of Employees | Approximately 50 |
| Business Outline | Provider of EV charging solutions, and energy management services with EV batteries |
| Website | |
The Mobility House manages energy storage systems consisting of EV battery packs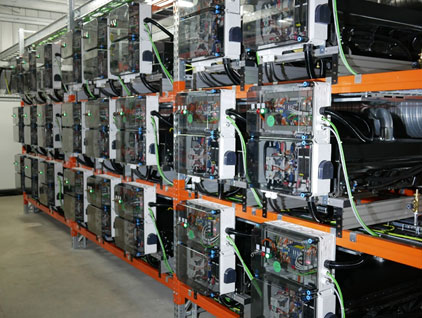 Notice:
This announcement contains forward-looking statements. These forward-looking statements are based on Mitsui's current assumptions, expectations and beliefs in light of the information currently possessed by it and involve known and unknown risks, uncertainties and other factors. Such risks, uncertainties and other factors may cause Mitsui's actual results, financial position or cash flows to be materially different from any future results, financial position or cash flows expressed or implied by these forward-looking statements. These risks, uncertainties and other factors referred to above include, but are not limited to, those contained in Mitsui's latest Annual Securities Report and Quarterly Securities Report, and Mitsui undertakes no obligation to publicly update or revise any forward-looking statements.
This announcement is published in order to publicly announce specific facts stated above, and does not constitute a solicitation of investments or any similar act inside or outside of Japan, regarding the shares, bonds or other securities issued by us.