Main Contents
Mitsui & Co., Ltd. ("Mitsui", Head Office: Tokyo, President and CEO: Tatsuo Yasunaga) has, through Caitan S.p.A. ("Caitan"), a 50-50 joint venture established with Técnicas de Desalinazación de Aguas, S.A. ("Tedagua") under the Spanish ACS group, entered into an agreement concerning operation for desalination and conveyance services to be provided to Minera Spence ("Spence"), which is a wholly owned subsidiary of BHP, world-leading resources company based in Australia.
Caitan will supply fresh water to Spence for a 20-year period. This project involves the construction of a desalination plant and a water conveyance system of approximately 150 kilometers in the area of Antofagasta in the north of Chile.
There is increasing concern about water shortages affecting the copper mining industry and industry in general. Demand is, therefore, expected to increase by approximately 14% per annum. Mitsui will continue its efforts to capture demand for water infrastructure and contribute to the development of Chile's fast growing economy, through the enhancement of related infrastructure.
Mitsui has identified the Machinery & Infrastructure business area as one of the core pillars in its new Medium-term Management Plan, and aims to build a robust profit base. Mitsui will pursue creating synergy with its other mining development projects in Chile by exercising its comprehensive strengths.
Project Overview
| | |
| --- | --- |
| Project entity | Caitan S.p.A. |
| Shareholders | Mitsui: 50%, Tedagua: 50% |
| Fresh water user | Minera Spence |
| Main facilities | Desalination plant (1,000 litter/second), Conveyance system (approx. 150km) and Power Transmission Lines |
| Start of operation | 2020/2Q |
Site Location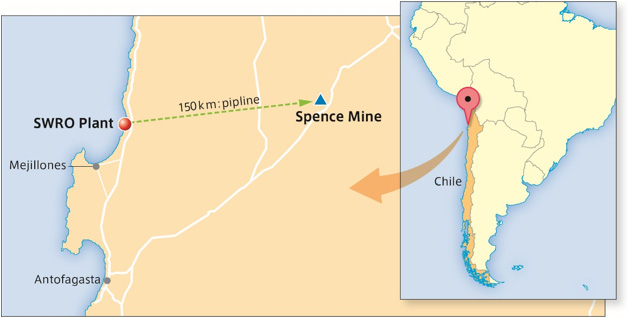 Notice:
This announcement contains forward-looking statements. These forward-looking statements are based on Mitsui's current assumptions, expectations and beliefs in light of the information currently possessed by it and involve known and unknown risks, uncertainties and other factors. Such risks, uncertainties and other factors may cause Mitsui's actual results, financial position or cash flows to be materially different from any future results, financial position or cash flows expressed or implied by these forward-looking statements. These risks, uncertainties and other factors referred to above include, but are not limited to, those contained in Mitsui's latest Annual Securities Report and Quarterly Securities Report, and Mitsui undertakes no obligation to publicly update or revise any forward-looking statements.
This announcement is published in order to publicly announce specific facts stated above, and does not constitute a solicitation of investments or any similar act inside or outside of Japan, regarding the shares, bonds or other securities issued by us.