Main Contents
Mitsui & Co., Ltd. ("Mitsui", Head Office: Tokyo, President and CEO: Tatsuo Yasunaga) has entered into a definitive agreement to acquire 100% of the shares in Accountable Healthcare Holdings Corporation ("Accountable", Head Office: Boca Raton, Florida, U.S.A.). Accountable is a leading provider of nurse staffing services, which currently places approximately 1,500 registered nurses and other healthcare providers to healthcare facilities throughout the United States.
In 2014, Mitsui acquired 100% ownership in The Delta Companies ("Delta", Head Office: Dallas, Texas), which provides temporary staffing and permanent placement, primarily for physicians and therapists. With the acquisition of Accountable, Mitsui has created a structure capable of supplying a wide range of human resource services for healthcare providers, including physicians, therapists, and nurses, on a temporary or permanent basis throughout the United States.
The United States is the largest healthcare market in the world. In addition to long-term population growth, there is also a trend toward demographic aging, and the demand for healthcare providers is expected to grow in step with market expansion. There are also social issues, including shortages of workforce for healthcare facilities, the emergence of diverse work styles, and the need to improve the productivity of workforce. These issues are reflected in a growing social need for healthcare human resource solutions to overcome these problems.
Mitsui has identified healthcare as one of the key growth areas to establish Mitsui's next profit pillar and aims to build a sustainable healthcare ecosystem in the overseas markets. Mitsui is also working to improve supply-demand mismatches and skills gap through the expansion of its human capital businesses. Human capital includes (but is not limited to) the supply of healthcare providers and healthcare education businesses, in efforts to create an infrastructure that will contribute to the supply of high-quality healthcare. Going forward, we intend to expand the scale of these businesses, and to strengthen our earnings base by leveraging our relationships with healthcare facilities and healthcare providers, and also develop new business services such as cross-border staffing and efficient recruitment and management of human resources through the application of technology.
Profile of Acquired Company
| | |
| --- | --- |
| Name of Company | Accountable Healthcare Holdings Corporation |
| Head Office | Boca Raton, Florida, U.S.A. |
| Representative | Kevin Little |
| Offices | 28 nationwide |
| Employees | Approx. 300 |
| Net Sales | Approx. US$143 million (for the year ended December 2016) |
| Shareholder (after acquisition) | Mitsui: 100% |
| Business Activities | Healthcare staffing services focused on nurses |
Investment Scheme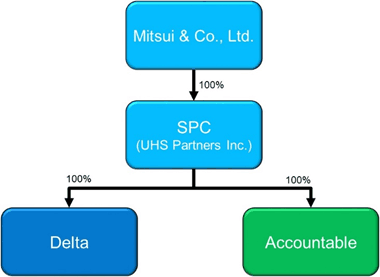 Notice:
This announcement contains forward-looking statements. These forward-looking statements are based on Mitsui's current assumptions, expectations and beliefs in light of the information currently possessed by it and involve known and unknown risks, uncertainties and other factors. Such risks, uncertainties and other factors may cause Mitsui's actual results, financial position or cash flows to be materially different from any future results, financial position or cash flows expressed or implied by these forward-looking statements. These risks, uncertainties and other factors referred to above include, but are not limited to, those contained in Mitsui's latest Annual Securities Report and Quarterly Securities Report, and Mitsui undertakes no obligation to publicly update or revise any forward-looking statements.
This announcement is published in order to publicly announce specific facts stated above, and does not constitute a solicitation of investments or any similar act inside or outside of Japan, regarding the shares, bonds or other securities issued by us.