Main Contents
Mitsui & Co., Ltd. ("Mitsui", Head Office: Tokyo, President and CEO: Tatsuo Yasunaga) has entered into an agreement with Mr. Alexey Repik who is the founder of the Russian pharmaceutical company R-Pharm ("R-Pharm", Head Office: Moscow, Chairman: Alexey Repik) to acquire approx. 10% of R-Pharm's shares.
Founded in 2001, R-Pharm sells pharmaceutical products throughout Russia and CIS countries and is one of the biggest Russia's pharmaceutical companies. It excels in the development, manufacturing and sales of new drugs in a wide range of fields, including cancer, infectious diseases, and rheumatism, in collaboration with international companies. As per capita income rises in Russia, demand for pharmaceuticals is shifting from low-cost generics to new drugs with high added value. The Pharma 2020 policy, which is being implemented under the leadership of the Russian Ministry of Industry and Trade, calls for an increase in the percentage of pharmaceuticals manufactured in Russia. R-Pharm's business operations are expected to expand because of its advantages as a manufacturer of high-added-value drugs based on international standards.
Mitsui identifies healthcare as one of its priority business domains. In the pharmaceutical area, it has focused in particular on the alleviation of qualitative and quantitative gaps in emerging countries through the expansion of business operations centering on support for new drug development and drug manufacturing, and drug manufacturing and sales. Going forward, Mitsui will contribute to the growth of R-Pharm and the development of the Russian and CIS pharmaceutical market by using its networks to accelerate R-Pharm's in-licensing of new drugs from foreign pharmaceutical manufacturers, and by helping R-Pharm to achieve further improvements in its manufacturing technology.
Profile of R-Pharm
Name of Company
JSC R-Pharm
Head office
Moscow, Russian Federation
Establishment
2001
Representative
Alexey Repik
Shareholders (after participation by Mitsui)
R-Pharm Holding LLC : Approx.90%,
Mitsui's SPC : Approx.10%
Employees
Approx. 3,600
Business Activities
Development, manufacturing, procurement, and sales of pharmaceuticals
URL
Investment Scheme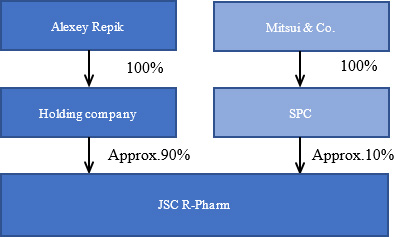 Notice:
This announcement contains forward-looking statements. These forward-looking statements are based on Mitsui's current assumptions, expectations and beliefs in light of the information currently possessed by it and involve known and unknown risks, uncertainties and other factors. Such risks, uncertainties and other factors may cause Mitsui's actual results, financial position or cash flows to be materially different from any future results, financial position or cash flows expressed or implied by these forward-looking statements. These risks, uncertainties and other factors referred to above include, but are not limited to, those contained in Mitsui's latest Annual Securities Report and Quarterly Securities Report, and Mitsui undertakes no obligation to publicly update or revise any forward-looking statements.
This announcement is published in order to publicly announce specific facts stated above, and does not constitute a solicitation of investments or any similar act inside or outside of Japan, regarding the shares, bonds or other securities issued by us.